I sometimes arrive in the grocery store, head to the seafood department and stand there with a blank stare on my face. What should I try now? I lately have an ongoing love/hate affair with some types of seafood. I used to bake salmon weekly, now I don't think I have baked salmon for over three months. Recently, halibut and sea bass are some of my favorites, however, after selecting grouper fillets and making Vegetable Topped Baked Grouper, I think I have a new favorite from the seafood department!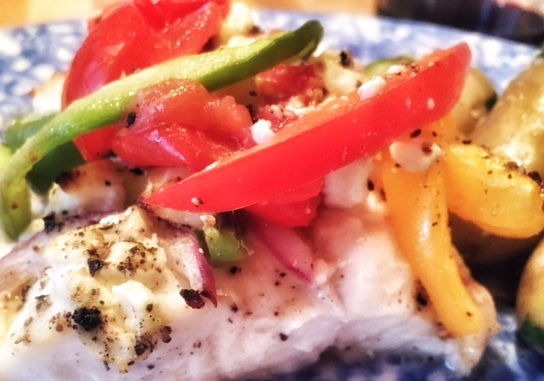 Vegetable Topped Grouper
Ingredients
2

pounds

grouper fillets

2

tablespoons

lemon juice

1

red onion, cut into thin slices

1

green bell pepper, cut into thin strips

1

tomato, sliced

4

ounces

feta cheese, crumbled

2

tablespoons

olive oil

1

teaspoon

Italian seasoning

1/2

cup

white wine
Instructions
Preheat oven to 450 degrees. Oil a baking dish. Squeeze lemon juice over fillets in baking dish. Top fillets with onion, green pepper, and tomato. Top with crumbled feta cheese. Drizzle with olive oil and season with Italian seasoning. Pour wine into baking dish. Bake fillets for 15 - 20 minutes or until fish flakes easily. Broil fish at high setting for a few minutes after baking until the cheese is browned.