Everywhere you look you will find pumpkin butter this time of year. If you have not tried pumpkin butter, it is a great holiday addition to your entertaining table. I was just brainstorming a few ideas using pumpkin butter:
Perfect on muffins, bagels, or toast. Blend with cream cheese for a special treat
Mix with plain yogurt, top with Maple Honey Granola
Make homemade Poptarts using pumpkin butter as the filling
Stir into oatmeal and top with raisins and nuts
Spread on baked brie and top with pecans
Layer vanilla ice cream with pumpkin butter for a wonderful parfait
Serve as a condiment on a cheese board
The possibilities are endless…
This recipe is easy to prepare and will keep for 2 months in your refrigerator. Perfect to keep on hand during the holidays.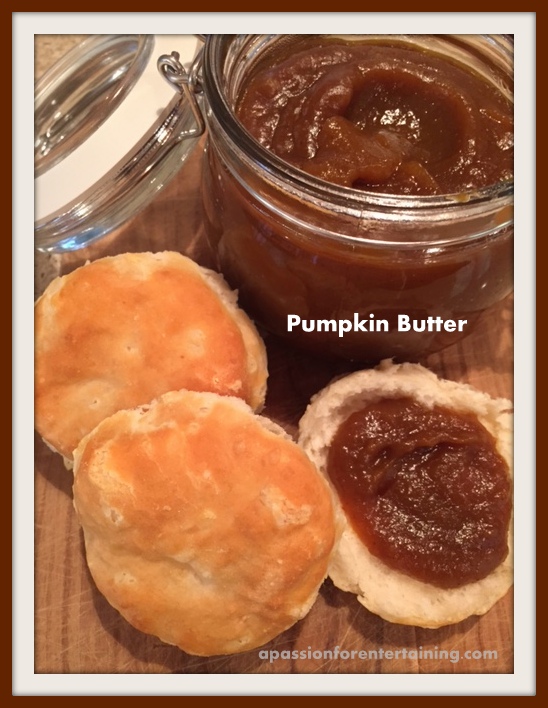 Pumpkin Butter
2015-11-02 08:24:30
Ingredients
1 can pumpkin purée
2/3 cup packed brown sugar
1/4 cup honey
1 tablespoon lemon juice
1 teaspoon grated lemon peel
1/4 teaspoon ground cinnamon
1/4 teaspoon ground ginger
1/8 teaspoon ground cloves
1/8 teaspoon grated nutmeg
1/4 teaspoon salt
Instructions
Combine all ingredients in a medium saucepan. Bring to a boil, immediately reduce heat to low. Simmer 20 minutes, stir frequently. Cool and refrigerate.
A Passion for Entertaining http://apassionforentertaining.com/