I don't know about you but I have an abundance of kitchen gadgets, some I use frequently and some I have never used. So, when I received an e-mail from Toadfish Outfitters in Charleston, SC I was a bit leery of another kitchen tool. However, when it comes to cleaning fresh shrimp, my opinion quickly changed because I find cleaning, peeling and deveining shrimp a real chore. They graciously sent me one of their shrimp cleaners before the holidays and today was the first chance I have had to give it a try. After checking out their video, I was ready to tackle this new tool. Well, I must admit my first attempt looked like the shrimp had gotten caught in my lawnmower blade! I just knew I was doing something wrong, one more check of the video and I was peeling shrimp like a pro. I have to tell you this is probably one of the best kitchen tools I have come across in a long time. It is very easy to use and certainly makes cleaning shrimp a breeze. I am happy to have this new tool in my kitchen, Watch out, now you will see many more shrimp recipes because I can clean them in a flash!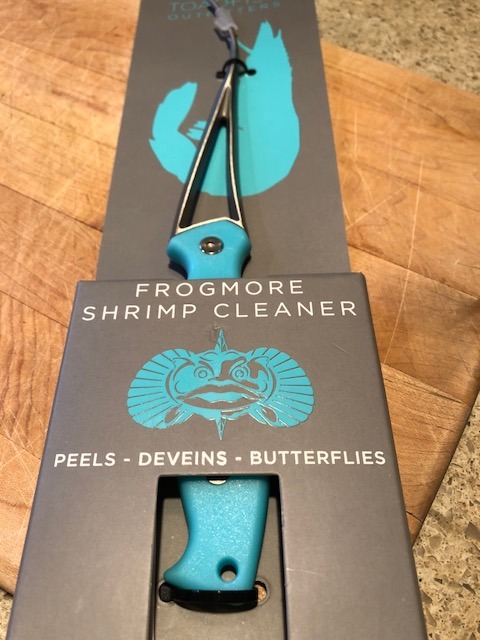 Check out their How To Video https://www.youtube.com/watch?v=8LWjoeuSZjE
Shrimp Rockefeller
This is a good Throw Back Thursday recipe. Shrimp Rockefeller was very popular in the mid-1960's. It is shrimp baked on a bed of spinach and topped with a sherry cream sauce. I like to serve on a bed of orzo but it would be equally good on rice or pasta. As good today as it was then.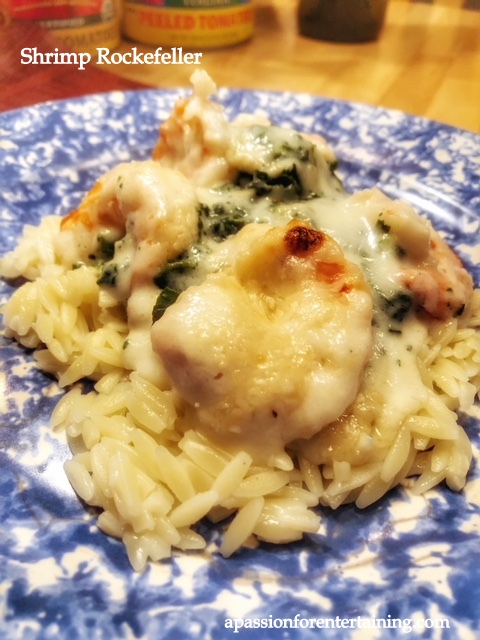 Shrimp Rockefeller
Ingredients
2

pounds

large shrimp, peeled and deveined

2

10 oz

packages chopped frozen spinach, cooked and drained

4

tablespoons

butter

4

tablespoons

flour

2

cups

warmed milk

3/4

teaspoon

salt

white pepper, to taste

2 - 3

tablespoons

dry sherry

1/4

cup

Parmesan cheese, plus more to topping
Instructions
Preheat oven to 350 degrees. Bring a medium pot of water to a boil, add shrimp and boil for 1 - 2 minute or just until they are pink, immediately drain and rinse under cold water, set aside. Cook spinach according to package directions, drain well, set aside. Melt butter, add flour and stir with a whisk for one minute. Slowly add warmed milk and continue cooking over medium heat until the sauce is thick and creamy. Remove from heat, add salt and pepper, dry sherry and 1/4 cup Parmesan cheese. Spread spinach in the bottom of a shallow casserole dish. Top with shrimp. Cover with the sauce. Sprinkle with additional Parmesan cheese. Cover with foil and bake for 20 minutes. Remove foil and broil until brown and bubbly. Serve.

This dish can be made ahead, by layering the spinach and shrimp, refrigerate. When ready to bake, top with the hot sauce and bake as directed.