I can't think of a more perfect dessert than a cheesecake. This recipe is from my stash of recipe cards and a family favorite. I like to use a single-crust pie crust for this pie but you could also use a graham cracker crust. Cheesecake Pie with Fresh Fruit Topping has three layers, a cheesecake layer, sour cream layer and fresh fruit topping. This time I used blueberries but you certainly could use fresh raspberries, strawberries, peaches. or other fruit for the topping.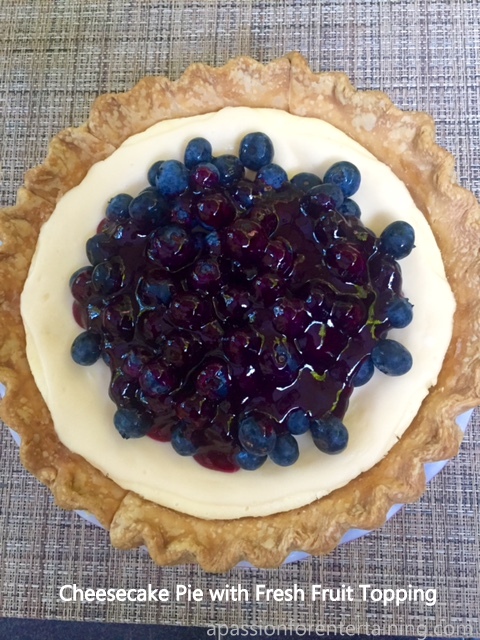 Cheesecake Pie with Fresh Fruit Topping
2016-06-21 05:15:26
Ingredients
1 single pie crust - line pie pan with crust, prick many times with a fork, and bake at 350 degrees for 8 minutes
Pie Filling
2 - 8 oz. packages cream cheese, softened
2 large eggs
1 tablespoon lemon juice
3/4 cup sugar
1 teaspoon vanilla
Sour Cream Layer
1 cup sour cream
1/4 cup sugar
1 teaspoon vanilla
Fruit topping
1 cup sugar
2 tablespoons cornstarch
3/4 cup water
2 cups fresh fruit
Instructions
In a mixing bowl combine Pie Filling ingredients - cream cheese, eggs, lemon juice, sugar and vanilla. Beat at medium speed until light and smooth. Pour into pie crust. Bake 350 degrees for 35 minutes. While pie is baking, combine sour cream, sugar and vanilla, set aside.
Remove the pie from the oven after it has baked for 35 minutes, top with sour cream mixture, spread evenly over the top of the pie. Return to oven and bake an additional 10 minutes. Remove from the oven and cool until room temperature.
Fruit filling - in a medium sauce pan combine 1 cup sugar, 2 tablespoons cornstarch, 3/4 cup water and 1/2 cup of the fresh fruit. Bring to a boil and cook for 1 minute stirring frequently. Remove from heat and strain.
After the pie is cool, top with remaining fresh fruit and drizzle 1/2 of the fruit glaze over the fruit. Refrigerate pie until serving. Serve with additional glaze.
http://apassionforentertaining.com/