You just never know what recipe I will find in my stash! Our very good friends host a Cocktail Smackdown each year and I thought it was the prefect venue to bring along Whisky and Coke Bites. These are made with Bourbon Whisky, Coke and chocolate, a decadent combination. My mom liked to serve small bites after dinner and I have to agree. One delicious bite after a wonderful meal – my kind of dessert!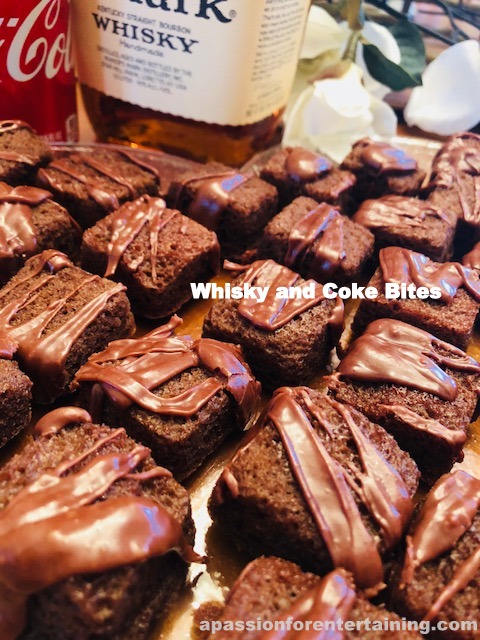 Whisky and Coke Bites
Ingredients
1 1/2

cups

butter, softened

2 1/2

cups

sugar

3

large eggs

1

teaspoon

vanilla extract

1

cup

coca-cola

3/4

cup

buttermilk

1/2

cup

bourbon whisky

3

cups

flour

1/2

cup

unsweetened cocoa

1 1/2

teaspoon

baking soda

1/2

teaspoon

salt

glaze

1/4

cup

butter, softened

2 1/2

teaspoons

unsweetened cocoa

3

tablespoons

coca cola

1-4

tablesoons

bourbon whisky

2 - 2 1/2

cups

powdered sugar
Instructions
Preheat oven to 350 degrees. Grease mini bundt pans, tiny muffin pans or brownie bite pans. In a mixing bowl combine butter and sugar, beat at medium speed until light and fluffy. Add eggs, one at a time, add vanilla, beat until well combined. Mix flour, cocoa, baking soda and salt and set aside. Combine cola, buttermilk and whisky and set aside. Alternately add flour and liquid mixture to the butter mixture on low speed, end with dry mixture. Scrape down sides of bowl frequently. Spoon batter into prepared pans, bake 10 - 12 minutes. Cool in pans 5 minutes, remove and cool on wire rack. Depending on pans you are using, this will make 4 - 6 dozen bites.

For the glaze, combine butter, Coke, 1 tablespoons whisky and cocoa with an electric mixer on low speed. Slowly add powdered sugar. Add additional whisky one tablespoon at a time until the glaze is of a consistency to drizzle over cakes. Drizzle glaze over cakes.
Now, more on the Smackdown. If you are looking for a unique entertaining idea, I highly recommend hosting a Cocktail Smackdown. It is a very creative idea and one I wish I had thought of! Our great friends JJ and Eleanor get the credit for this amazing party. Here is the premise, each couple brings a creative cocktail to share, a heavy appetizer, and a great story to go along with the cocktail. This year we had color changing cocktails with a great story with roots back to a Hawaiian rum maker, spiced infused maple syrup and ginger beer in a bourbon cocktail called the Crabby Pilot with airplane ice cubes, Bloody Mary's with pickle infused vodka, homemade pickled okra, and bacon salt-rimmed glasses, Painkillers with the story direct from the Virgin Islands and Grasshoppers a throwback cocktail as delicious today and they were then. Below are a few photos that captured the evening. What a great entertaining idea that is very interactive and a great night of stories.