This week has been a week of farmers market finds. I purchased 7 oz. of fresh Burrata Cheese from a local cheese company, assorted heirloom cherry tomatoes and fresh basil. Burrata is a fresh Italian cheese; basically a ball formed from Mozzarella filled with fresh cheese and/or cream. When you cut it open, the wonderful creamy center flows out. I think you will agree this is a wonderful concoction of pasta, tomatoes, sausage, and fresh burrata.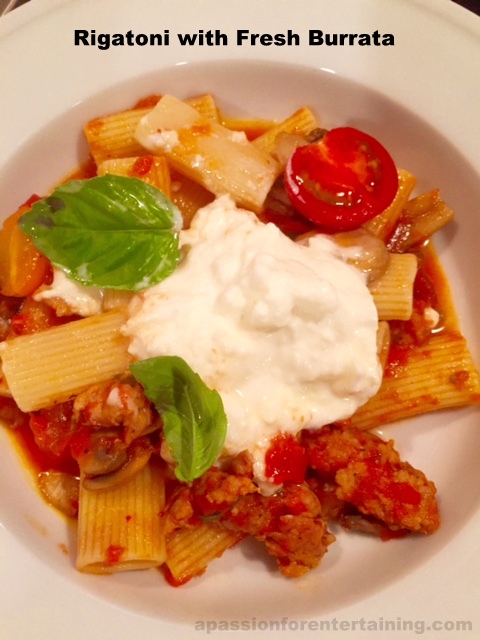 Rigatoni with Fresh Burrata
2016-07-12 05:56:29
Serves 4
Ingredients
2 tablespoons olive oil
1 clove garlic, minced
8 oz. hot Italian sausage (I used chicken sausage, however you can use pork or turkey sausage)
14 oz. can crushed tomatoes
8 oz. fresh sliced mushrooms
1 1/2 cup cherry tomatoes, halved
2 tablespoons minced fresh basil leaves
8 oz. rigatoni
7 oz. fresh burrata cheese, let sit at room temperature while preparing sauce.
salt and pepper, to taste
Instructions
In a medium dutch oven, over medium heat, heat olive oil. Add garlic and cook until just fragrant (do not brown). Add Italian sausage and cook until no longer pink. Add crushed tomatoes, mushrooms and 1 cup cherry tomatoes. Reduce heat to medium low and cover. Cook for 20 minutes, stirring occasionally. Cook rigatoni al dente and drain. Add to sauce, stir. Stir in basil leaves, remaining 1/2 cup of tomatoes, and salt and pepper. Stir until heated through. Top with burrata cheese, serve.
A Passion for Entertaining http://apassionforentertaining.com/