After another visit to my favorite distillery, Catoctin Creek Distillery in Purcellville, VA , I decided it was time to use their award winning Roundstone Rye Whisky in another recipe. This time, my target was an apple pie. First, I let the apples and rye whisky mascerate so each apple slice absorbed the whisky flavor, then tossed the apples with flour and spices, tossed in a few dried cranberries and added a crumb topping. I must admit, a great combination of flavors. Delicious served warm with a scoop of vanilla ice cream – now, that is the way to start the fall season!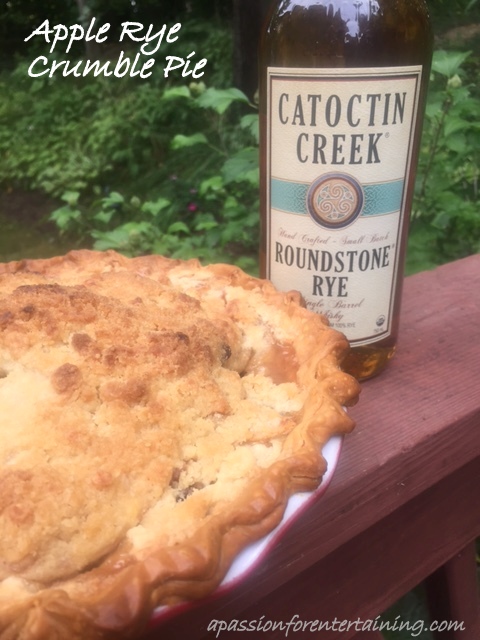 Apple Rye Crumble Pie
2016-09-20 06:09:04
Ingredients
Pastry for a One-crust pie
8 medium Granny Smith apples, peeled and thinly sliced
3 tablespoons rye whisky
1/3 cup sugar
1/4 cup flour
1 teaspoon ground cinnamon
1/2 teaspoon ground nutmeg
1/8 teaspoon salt
1/2 cup dried cranberries
Topping
1 cup flour
1/2 cup packed light brown sugar
1/2 cup cold butter
Instructions
Preheat oven to 425 degrees. Line pie plate with pie crust, crimp edges. In a medium bowl, add apple slices and toss with rye whisky. Let stand for 5 minutes. Mix sugar, flour, cinnamon, nutmeg and salt. Toss with the apples, stir in cranberries. Turn apple mixture into pastry-lined pie plate. To prepare crumb topping, combine flour and brown sugar, cut in butter until mixture is crumbly and butter pieces are smaller than the size of peas. Sprinkle apple mixture with the crumb topping. Bake pie for 50 minutes, cover topping with foil during the last 15 minutes to prevent excessive browning.
A Passion for Entertaining http://apassionforentertaining.com/