Pasta salads are one of our favorites during the warm spring and summer days. Easy to prepare early in the day and great to serve with your favorite grilled meat, fish, or chicken. I use the marinade from the marinated artichokes as the dressing, I also love to use feta cheese that is infused with pepper. It just adds the perfect piquancy to this salad.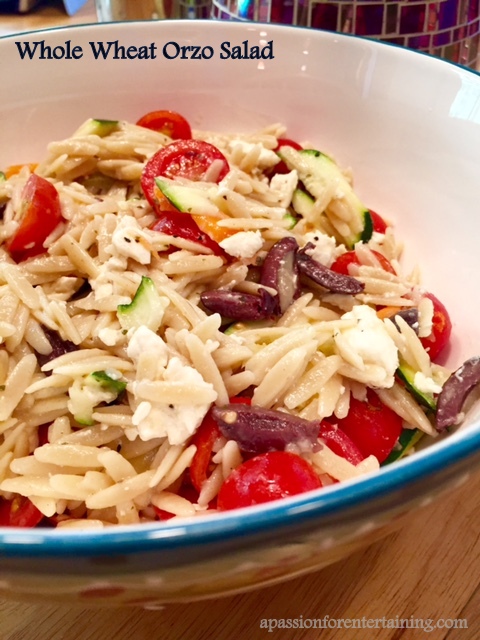 Whole Wheat Orzo Salad
2016-04-28 06:08:13
Ingredients
1 cup whole wheat orzo, cooked
1 jar marinated artichokes, drained, marinade reserved
1 cup sliced cherry tomatoes
1 zucchini, shredded
1 carrot, shredded
1/2 cup kalamata olives, sliced
1/2 cup feta cheese, crumbled (I use feta with pepper)
Salt and pepper, to taste ( I omit the pepper when using feta with pepper)
Instructions
Cook orzo according to package directions. Drain and place in a mixing bowl. While hot, toss with 3 tablespoons of reserved marinade from artichokes. Let cool, if preferred, add additional marinade to desired amount of dressing. Add remaining ingredients, toss. Refrigerate until serving. Remove from refrigerator 30 minutes prior to serving. Add additional feta when serving, if desired.
A Passion for Entertaining http://apassionforentertaining.com/