I am always trying new salads. What inspired this salad was my trip to the grocery and finding gourney cheese with garlic and herbs (Boursin) on sale. I took that as a challenge to come up with a salad that would incorporate this cheese. Since it is a creamy cheese, I thought about a salad dressing. I also had asparagus, zucchini and Peppedew peppers in my refrigerator. I think the term 'necessity is the mother of invention' applies to this recipe. The results were outstanding – a new rice salad to add to my salad list.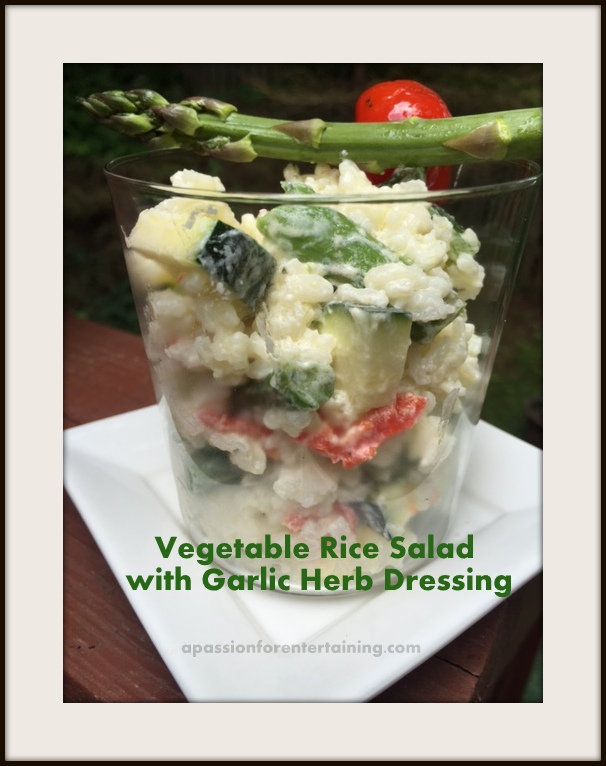 Vegetable Rice Salad with Garlic Herb Dressing
2015-06-10 09:40:41
Ingredients
3 cups cooked rice, cooled
Asparagus, cut and blanched
1 medium zucchini, chopped
5 Peppedew peppers, diced
1/4 cup toasted almonds
Salt and pepper, to taste
Dressing
1 5.2 ounce gourney cheese with garlic and herbs (Boursin)
2 tablespoons mascarpone cheese
Juice of one lemon
1/4 cup milk
1/2 cup olive oil
Instructions
Combine cooked rice, asparagus, zucchini, and Peppedew peppers in a large bowl. Combine dressing ingredients, pour over rice mixture. Add salt and pepper, to taste. Stir well to combine. Refrigerate. Top with toasted almonds prior to serving.
A Passion for Entertaining http://apassionforentertaining.com/