Years ago, when we lived in the Upper Peninsula of Michigan, we had a favorite dive hang-out. Yes, it was a true dive, but the food was delicious. They made this pasta salad with fettuccine and a dill ranch dressing. To this day, we still remember the salad and I think I this combination is very close to the original. I have added the name Vango Salad since that was the restaurant that inspired this dish. I hope you like it as much as we do. It is a real throw back recipe for me.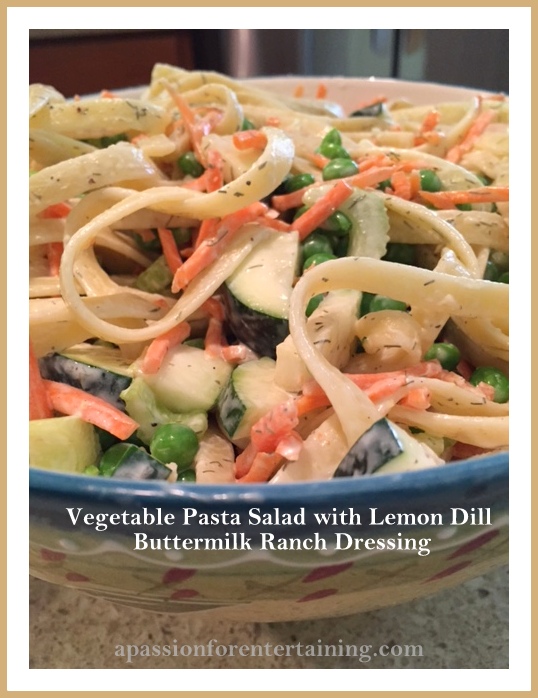 Vegetable Pasta Salad with Lemon Dill Buttermilk Ranch Dressing
2015-05-18 13:33:53
Ingredients
1/2 pound fettuccine, cooked according to package directions
Assorted diced or shredded vegetables (zucchini, carrots, celery, peas, or any preferred combination)
Lemon Dill Buttermilk Ranch Dressing
3/4 cup buttermilk
3 tablespoons sour cream
2 tablespoons mayonnaise
2 teaspoons chopped dill
1 teaspoon chopped chives
1 teaspoon grated lemon peel
1/2 teaspoon Dijon mustard
Instructions
Cook pasta according to package directions, drain. In a large mixing bowl, combine pasta and assorted vegetables. Combine all of the dressing ingredients in a jar and shake vigorously. Pour desired amount over salad ingredients. Mix well. Refrigerate. Just prior to serving, add a bit more dressing if salad appears dry.
A Passion for Entertaining http://apassionforentertaining.com/