In my opinion, it is hard to beat a wonderful steak salad. I wanted to create a salad that incorporated ingredients that would be found in your favorite steakhouse. Spinach, mushrooms, tomatoes (I loved those large grilled tomatoes they serve), squash, avocado, steak and a vinaigrette. I marinated the steak in our favorite marinade, grilled until medium rare, sliced and served on top of all of the salad ingredients. I then drizzled the vinaigrette over the steak. Let's just say – steakhouse wonderful!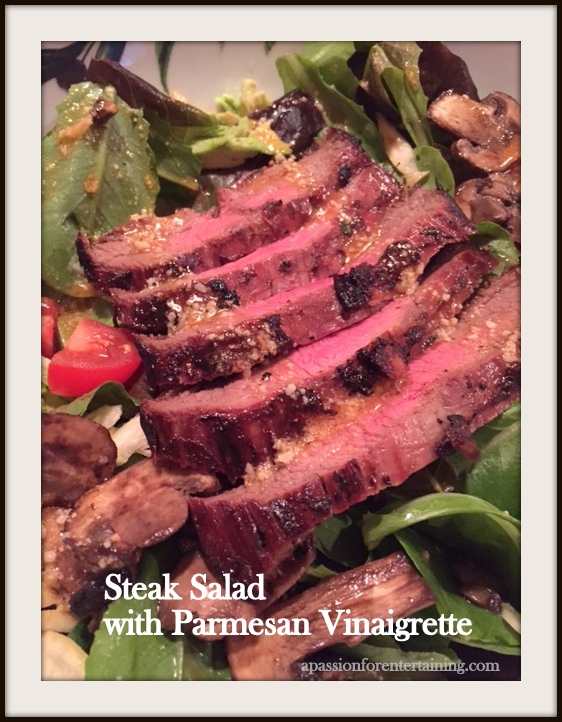 Steak Salad with Parmesan Vinaigrette
2015-04-16 12:56:20
Ingredients
Marinated Grilled Flank Steak
Flank steak - size depending on number serving
Juice of one lemon
1/2 cup soy sauce
1/4 cup red wine
3 tablespoons canola oil
2 tablespoons Worcestershire sauce
1 large clove garlic, minced
2 tablespoons chopped chives
1 teaspoon black pepper
Vinaigrette
2/3 cups vegetable oil
1/4 cup red wine vinegar
2 tablespoons honey
1 clove garlic, minced
Salt and pepper, to taste
1 teaspoon Dijon mustard
1 teaspoon Worcestershire sauce
1 teaspoon paprika
1/3 cup grated parmesan cheese
Salad ingredients
Mixed greens
8 oz. sliced mushrooms, sautéed in 2 tablespoons of butter
1 yellow squash, grated
2 large tomatoes, sliced
1 avocado, cubed
Instructions
Combine marinade ingredients and marinate steak in large ziptop bag, 2 - 12 hours, prior to grilling.
Just prior to serving, grill steak (approx. 9 minutes per side for medium rare) and slice on the diagonal into thin slices.
Vinaigrette
Combine all ingredients and refrigerate.
To serve, combine salad ingredients in a large salad bowl, top with sliced steak and drizzle with dressing.
A Passion for Entertaining http://apassionforentertaining.com/