You might wonder why I call these Southern Crab Nachos. Well, it is because I added a layer of cheese grits! I met Parker Hinson from Old School Mill in Albemarle, NC. and he graciously gave me a bag of their stone ground grits. After living in Texas for five years and making grits frequently, I can absolutely say these are the best grits I have ever had. I wanted to add a southern twist to my nachos and decided to add a layer of cheese grits. The best thing about these nachos is not only does the top of the Southern Crab Nachos ooze with deliciousness of cheese and crab, the bottom chips scoop up a wonderful layer of cheese grits with the other toppings. Each bite is so delicious you will want to make extras!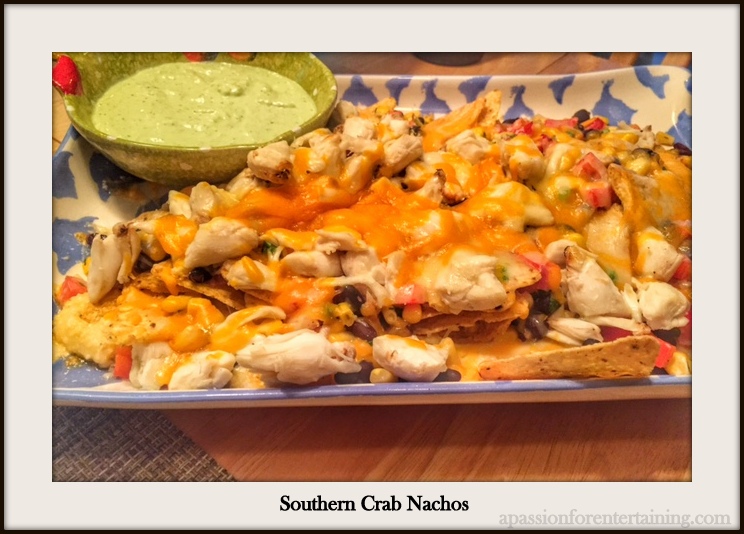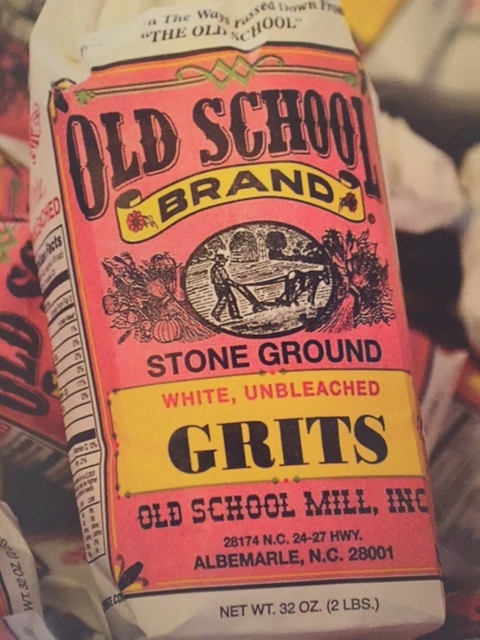 These grits are a find! Check out their website http://oldschool.com Here is a little bit on info on their mill:
Old School Brand uses the art of stone grinding grains into wonderfully pure meals, flours, and grits. Since those first products were made we have developed a line of foods and mixes that bring back all the rich goodness and flavor of centuries ago.
Southern Crab Nachos
Ingredients
1

recipe

Cheese Grits

1

recipe

Black Bean Relish

8 - 12

ounces

jumbo lump crab meat

1

large bag

tortilla chips (flour or corn)

1

cup

grated monterey jack cheese

1

cup

shredded sharp cheddar cheese

1

recipe

Avocado Lime Buttermilk Dressing
Instructions
Preheat oven to 375 degrees. Prepare grits and spoon over the bottom of your ovenproof serving dish. Top with layers of tortilla chips. Spoon over the black bean relish, crab meat and cheeses. Bake until hot and bubbly, 8 - 12 minutes. Serve with a side of avocado lime buttermilk dressing.
Cheese Grits
Ingredients
2

cups

water

1/2

cup

stone ground grits

1

teaspoon

salt

1/3

cup

shredded cheddar cheese
Instructions
Bring water and salt to a boil. Add grits. Reduce heat to simmer and cook stirring occasionally for 20 minutes. Remove from heat and stir in the cheese.
Black Bean Relish
Ingredients
1/2

cup

frozen corn, thawed

1/3

cup

black beans, rinsed and drained

1

tablespoon

red onion, minced

2

teaspoons

jalapeno pepper, minced

1/4

cup

tomato, finely diced

2

tablespoons

red pepper, minced

2

tablespoons

cilantro, minced

1/2

lime, squeezed

salt and pepper
Avocado Lime Buttermilk Dressing
Ingredients
1

ripe avocado

3/4

cup

buttermilk

3

tablespoons

sour cream

2

tablespoons

mayonnaise

1

tablespoon

cilantro, minced

1

teaspoon

grated lime peel

1

teaspoon

lime juice

4

dashes

Tabasco sauce

salt and pepper
Instructions
Cut avocado in half and discard pit, scoop flesh into food processor bowl. Combine all remaining ingredients in the bowl of your food processor and process until smooth. Refrigerate until ready to serve