When we were traveling in Wisconsin last weekend, during the Memorial Day Holiday, we had a fantastic shrimp appetizer at one of our favorite restaurants.. We were eating at the Red Eye Brewing Company in Wausau, WI. On the appetizer menu they had skewered shrimp with aioli. Let's just say it was perfect and we all commented on how great it was. As I always do when I find a dish that I want to recreate at home, I took a photo, enjoyed the wonderful meal and headed home with a great recipe inspiration. Instead of serving these with aioli, I thought a chipotle dip with seasoned shrimp would be my take on this recipe. This is one of the best new creations I have made – I think you will agree. Six ingredients and sensational flavor – easy and delicious!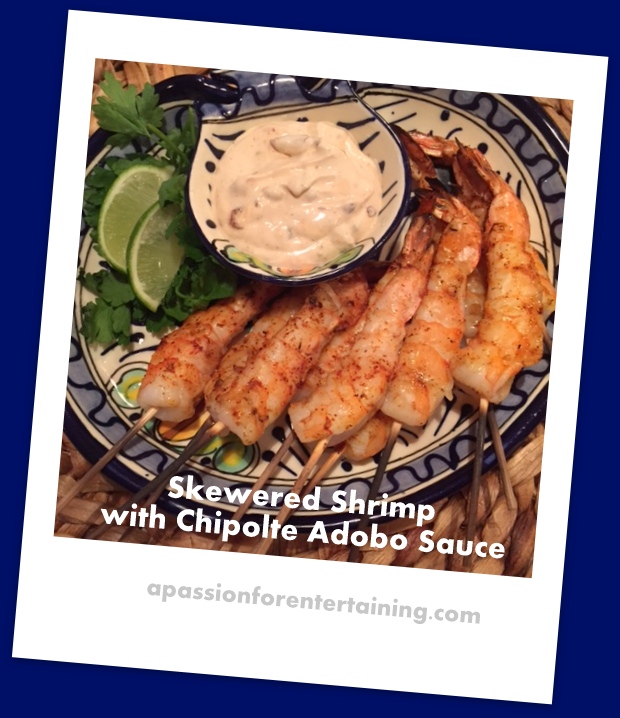 Skewered Shrimp with Chipolte Adobo Sauce
2015-05-30 06:14:21
Ingredients
Raw jumbo shrimp, peeled and deveined, tail on
Bamboo skewers, soaked in water
Garlic salt
Cumin
Chili Powder
Chipolte Sauce
3/4 cup sour cream
2 chipotle peppers in adobe sauce, chopped
Instructions
Thread each skewer with one shrimp - refer to photo
Lightly dust the shrimp with garlic salt, cumin and chili powder.
Prepare sauce by combining sour cream and chipotle peppers - refrigerate until serving. If you like a sauce with more kick - add an additional pepper.
Grill the shrimp over medium hot coals approx. 2- 3 minutes per side, until they are no longer opaque, do not overcook or they will be tough.
Serve the shrimp with the chipotle sauce.
A Passion for Entertaining http://apassionforentertaining.com/