On my morning visit to the local farmers market, I was looking for vegetables that would complement a sauce I was planning on making. I didn't have to look far when I spotted fingerling potatoes and carrots. The farmers market was plentiful and the selection was outstanding. Along with my vegetables, I also purchased fresh rainbow trout that I knew I wanted to grill. The effort required for roasting vegetables is minimal and the results are outstanding. If you have not tried roasting vegetables, now is the time. Simply toss with olive oil, salt and pepper, and let your oven do the work. If you prefer other vegetables, this method works for all vegetables, you will just have to adjust the cooking times.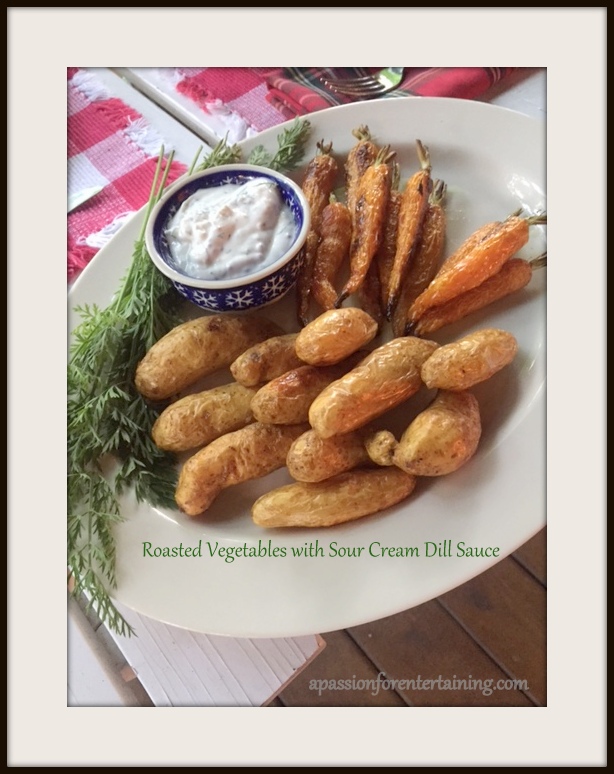 Roasted Vegetables with Sour Cream Dill Sauce
2015-07-19 06:27:49
Ingredients
Fingerling potatoes
Carrots
2-3 tablespoons olive oil
Salt and Pepper
Sour Cream Dill Sauce
3/4 cup sour cream
2 tablespoon coarse grain mustard
1 tablespoon lemon juice
1 tablespoon fresh dill, minced
Salt and pepper, to taste
Instructions
Wash, drain and dry potatoes and carrots. Toss with olive oil. Place on a baking sheet. Salt and pepper vegetables. Roast 400 degrees, 20 - 25 minutes until tender.
Combine sour cream, mustard, lemon juice, dill and salt and pepper. Mix well, refrigerate until serving. Serve along side of roasted vegetables.
A Passion for Entertaining http://apassionforentertaining.com/