I am a fan of a great taco salad. Years ago, you would have found me using a dried package of taco seasoning and adding it to ground beef to make the salad. Over the years, I have tried to cook everything organic and with the least amount of additives (farm to table), just like our moms did. Restaurants lead you to believe they are on to something new – however, I don't know about you but my mom always cooked everything fresh and from scratch. I remember thinking how great it would be to have a sandwich on purchased bread, since I grew up only eating homemade bread. Now, I am thrilled that I was raised by a cook, baker and chef. You know the tale, shop the outside perimeter of the store and not the center aisles so you avoid those items that are loaded with ingredients that are best to stay away from. Well, back to my taco salad. For this salad I used ground turkey and seasoned the meat with one cup of organic salsa. Delicious, easy and quick. You can add any variation of complements to your salad, I love adding the blue corn chips.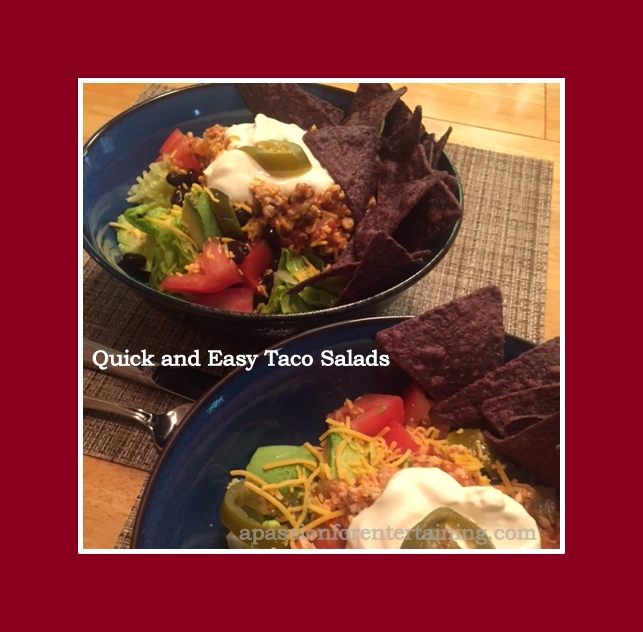 Quick and Easy Taco Salads
2015-06-17 06:50:30
Ingredients
1 pound ground turkey
1 medium onion, chopped
2 tablespoons olive oil
1 cup salsa
1/2 cup water
Lettuce
Black beans
Tomato, diced
Avocado, diced
Shredded cheese
Sour Cream
Jalapeños
Tortilla chips
Instructions
Heat a large sauce pan over medium high heat. Add olive oil and onion, cook until onion is transparent, 5 - 8 minutes. Add turkey, reduce heat to medium and cook until meat is no longer pink, stir frequently to break meat into small pieces. Add salsa and water, reduce heat to low, cover and cook 8 minutes.
Layer desired salad ingredients in large bowls, top with turkey mixture. Serve with your favorite tortilla chips.
A Passion for Entertaining http://apassionforentertaining.com/