Pasta Primavera was named because it uses the vegetables that are available in the spring. Even though, you can find these vegetables year round, it is typically associated with spring. This is one of my 'go-to' pasta dishes. These are many times when I want to make a quick delicious dinner that is easy to prepare. I prefer to use freshly grated parmesan cheese when cooking, it adds such great flavor and far surpasses pre-grated cheese that is found in the stores. Parmesan is a hard cheese, the easiest way to grate the cheese is to cube the cheese and process in your food processor until fine.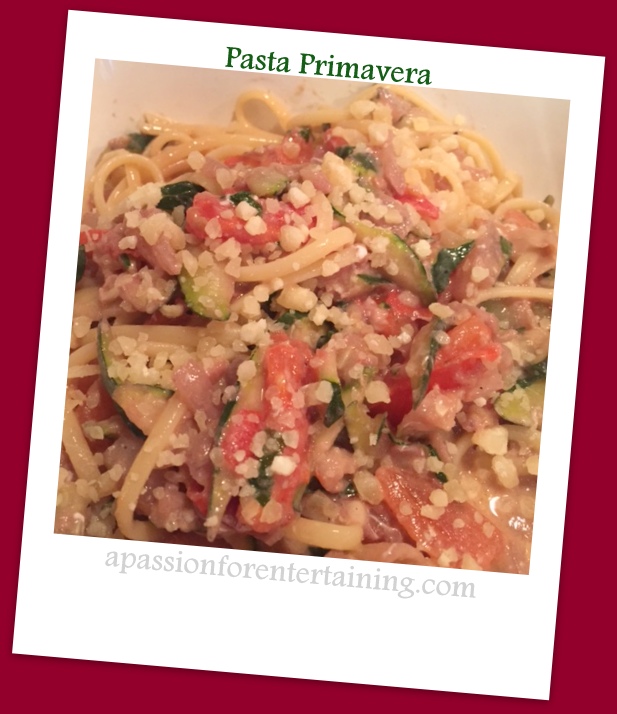 Pasta Primavera
2015-05-12 09:02:58
Serves 4
Ingredients
2 cloves of garlic, minced
1 tablespoon olive oil
1 onion, peeled and diced
2 ripe tomatoes, diced
1 tablespoon fresh basil, minced
1 teaspoon oregano
1 medium zucchini, coarsely grated
1/2 cup red wine
1 egg, beaten
1/2 cup grated parmesan cheese
1 pound of cooked pasta
Instructions
Prepare pasta according to package directions.
In a large sauce pan, heat oil and cook onion until translucent over medium heat. Add garlic and cook an additional 1 - 2 minutes, stirring frequently. Add tomatoes, basil, oregano and zucchini. Cook over medium high heat for 5 minutes, stirring frequently. Add the wine and simmer to slightly reduce moisture. In a small bowl, beat egg, slowly add some of the hot liquid, while stirring, into the egg to temper the egg (if you do not temper the egg, you will end up with a scrambled egg in your sauce). Add the egg to the vegetable mixture. Add the cheese. Salt and pepper to taste.
Drain pasta and add to sauce. Simmer a few minutes. Serve.
Adapted from from the Frugal Gourmet
Adapted from from the Frugal Gourmet
A Passion for Entertaining http://apassionforentertaining.com/