Chicken is one of my go-to ingredients. The easier and quicker I can make dinner, the better. There are just those days when I want to not think about dinner and put something together that I can make in a flash. These chicken strips are quick, easy and delicious. I like to coat the chicken and then refrigerate for fifteen minutes so the coating has a few minutes to sit and adhere to the chicken. You will find the coating does not fall off when cooking. These strips would also be great on a salad or in a roll with condiments of your choice. Looking for a picnic idea, make these ahead and serve cold.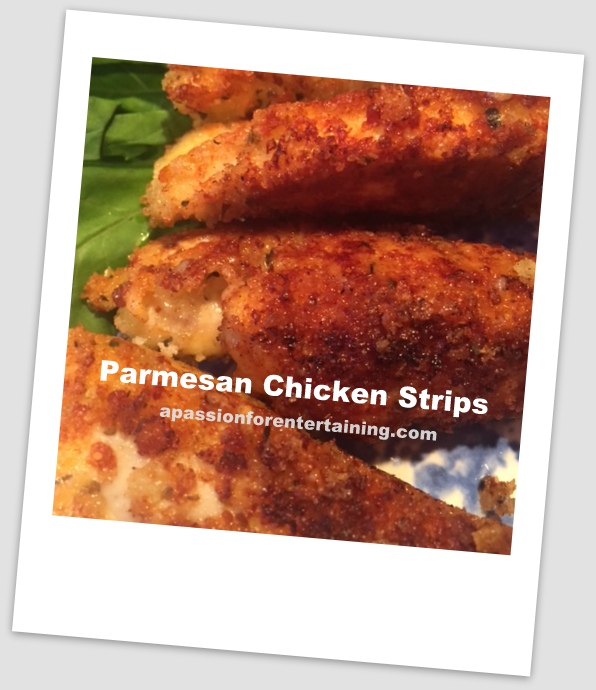 Parmesan Chicken Strips
2015-03-31 06:49:53
Ingredients
2 boneless skinless chicken breasts
3 tablespoons flour
1 teaspoon salt
2 eggs, beaten with 2 tablespoons water
1/2 cup Panko crumbs
1/2 cup grated parmesan cheese
Grated fresh pepper
1 teaspoons dried Italian seasoning
3 tablespoons butter
3 tablespoons olive oil
Instructions
Slice chicken breasts into approx. 1 1/2 inch strips.
Arrange three shallow bowls for dredging the chicken.
1st bowl - flour and salt
2nd bowl - eggs and water
3rd bowl - Panko crumbs, parmesan cheese, pepper and seasonings
Take each chicken strip and roll in flour mixture, eggs mixture, and roll in crumb mixture.
Place on a plate. When you have finished coating all chicken breasts, refrigerate for 15 minutes.
In a large heavy skillet, melt butter and oil over medium high heat.
Cook chicken in skillet, turning when each side is golden brown. This will take approx. 10 minutes - watch closely. Some strips will probably cook faster than others, depending on size. Remove strips when golden, drain on a paper towel lined plate. Serve.
A Passion for Entertaining http://apassionforentertaining.com/