While sorting through my recipe file; I came across this recipe that I received from a dear friend years ago. I was once a member of a neighborhood quilting group that would get together frequently and work on combined quilting projects. It was at one of these meetings that one of the members brought this breakfast cake. One of the reasons we all requested this recipe is that you make it the night before, refrigerate overnight and bake in the morning. With the holidays approaching, I thought this would be the perfect recipe for all busy cooks. I have even made this one step easier, I used precooked turkey sausage crumbles that you can buy in the grocery next to the breakfast sausages. I like using turkey sausage since it is leaner and precooked makes it even easier to use and a time reducer. Having overnight guests? This is the perfect make ahead breakfast treat.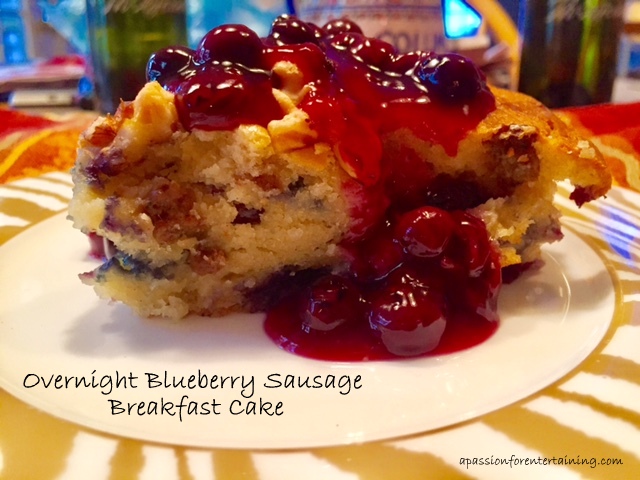 O
Overnight Blueberry Sausage Breakfast Cake
2016-11-07 06:11:41
Serves 10
Ingredients
2 cups flour
1 teaspoon baking powder
1/2 teaspoon baking soda
1/2 cup butter, softened
3/4 cup sugar
1/4 cup brown sugar
2 eggs
1 8 oz. container sour cream
1 # turkey sausage precooked crumbles or pork sausage, cooked and well-drained
1 cup blueberries
1/2 cup chopped nuts (optional)
Blueberry Sauce
Instructions
In a medium bowl combine flour, baking powder and baking soda, set aside. In a large mixer bowl, beat butter and sugars on high speed until fluffy. Add eggs, one at a time, mix well after each addition. Add flour mixture and sour cream alternately to egg mixture, until all is just combined. Fold in sausage and blueberries. Pour batter into a lightly greased 9 x 13 inch pan. Spread batter evenly and sprinkle with nuts. Cover and refrigerate overnight. In the morning, remove from the refrigerator while the oven is preheating. Bake in a 350 degree oven for 35 - 40 minutes or until a toothpick or cake tester comes out clean. Cool on a wire rack for 8 -10 minutes, serve warm. Top with blueberry sauce.
Notes
Blueberry Sauce
1/2 cup sugar
1 1/2 tablespoons cornstarch
1/2 cup water
2 cups fresh or frozen blueberries
1/2 teaspoon lemon juice
In a medium saucepan, combine sugar, cornstarch, water and blueberries. Cook over medium heat until thickened and bubbly. Stir constantly. Cook and stir two more minutes. Stir in lemon juice and serve. If mixture seems too thick, add water one tablespoon at a time until it reaches your desired consistency. This sauce can be made the day before and refrigerated. The sauce can be reheated in the microwave.
Serving a smaller crowd? You can easily make 1/2 of the recipe, bake as above in a 9 inch pie pan.
A Passion for Entertaining http://apassionforentertaining.com/