Put the coffee pot on! This cake is just perfect to serve for breakfast or brunch. The brown sugar crumble tops a moist orange cake studded with dates. Just too good to pass up. Time to sit, relax and enjoy this wonderful cake with friends and family.
As a side note – I sent this crumble cake to my husband's office – First comments on the coffee cake, "These are ridiculous!" and "Best coffee cake – ever!"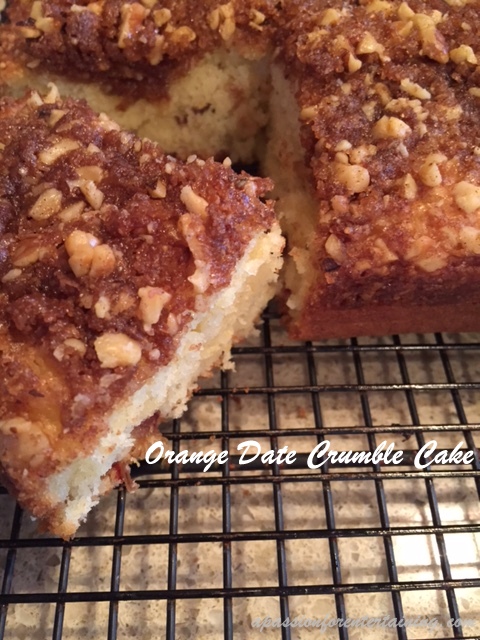 Orange Date Crumble Cake
2016-02-10 12:42:20
Ingredients
2 cups flour
1/2 cup granulated sugar
1 tablespoon baking powder
1 egg, beaten
1/2 cup milk
1/2 cup canola oil
1/2 cup dates, diced
3 teaspoons finely grated orange peel
1/2 cup orange juice
1/2 cup chopped walnuts
1/2 cup packed brown sugar
2 tablespoons unsalted butter
1 teaspoon ground cinnamon
Instructions
Preheat oven to 375 degrees.
In a medium mixing bowl combine flour, sugar and baking powder. Mix well. Add egg, milk and oil, stir just until all dry ingredients are incorporated. Add egg, orange juice and dates. Stir until batter is just blended. Pour into a greased 9 inch square pan. Combine brown sugar, butter and cinnamon with a pastry blender or 2 knives until the butter is cut into small pieces. Stir in the walnuts. Sprinkle over batter. Bake 375 for 30 minutes.
A Passion for Entertaining http://apassionforentertaining.com/