I was introduced to Greek olive oil this past weekend while visiting Union Market in Washington, DC. Pericles (Perry) Konstas is a local importer of olive oil from his families orchards in Greece. I was inspired after I returned home to develop a bread recipe that would highlight this olive oil. I used his Spartan Oil and the results were great. He told me about a friend who had made bread with nuts, oranges, olives and his olive oil. I decided time to experiment and here is my version using oranges and Greek olive oil. Delicious!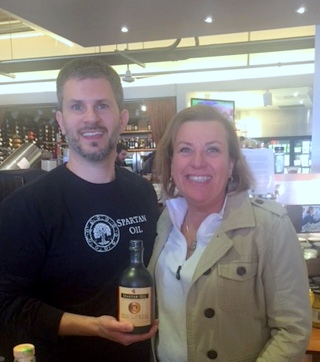 Union Market – Washington DC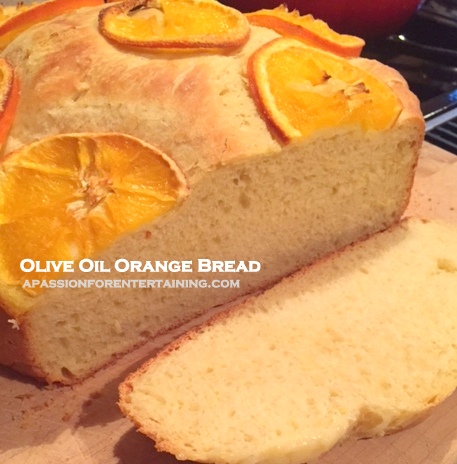 Olive Oil Orange Bread
2015-03-08 14:38:54
Ingredients
3 1/2 cups flour
2 1/4 teaspoons yeast
1/2 cup warm water
1/2 cup orange juice
2 tablespoons honey
3 tablespoons olive oil
1 egg
11/2 teaspoon salt
Zest of 1 orange
One orange thinly sliced for the top
Instructions
Dissolve yeast in warm water and set aside for 10 minutes.
Combine the flour, honey,olive oil, egg, salt, and orange zest and orange juice in mixing bowl with dough hook attachment. Add water with yeast mixture slowly until dough forms. If too dry, add additional water, 1 tablespoon at a time. If the dough appears too wet, add additional flour 1/4 cup at a time. Combine until dough forms. Turn dough out onto lightly floured board and knead for 5 minutes. Put in a greased bowl, cover and let rise for 1 hour. Punch dough down. Brush baking pan with olive oil, add dough. Pat dough into greased pan ( I used a 10 inch springform pan) - top with thin slices of orange and brush with Greek olive oil. Cover and let rise 1 1/2 hours. Bake 350 - 35 - 45 minutes until golden brown and when tapped sounds hollow.
Notes
Delicious dipped in olive oil
A Passion for Entertaining http://apassionforentertaining.com/