Recipe #1 in the Spartan Oil #EVOOChallenge.
When challenged to create recipes using Spartan Oil Olive, I took the challenge with no hesitation. I use their olive oil in many of my recipes and always find the results outstanding. When testing these recipes, we hosted a party for eight, all of our guests serving as my "taste testers". This proved to be a wonderful evening of great food, olive oil discussions and candid comments. As the week progresses, you will see my other EVOO challenge recipes.
Looking for a make ahead appetizer that you can make up to one week in advance? This appetizer is perfect with a great glass of wine or a cocktail. Serve the marinated cheese on crackers or baguette slices. If you have any leftover, you can refrigerate and it will be terrific in other recipes. Here are a few ideas: mix with warm pasta and roasted vegetables for a terrific pasta dish, spread on baguette slices and broil until bubbly or put the goat cheese in an oven safe ramekin and top with sun-dried tomatoes and bake in a 350 degree oven until melted, serve with crackers.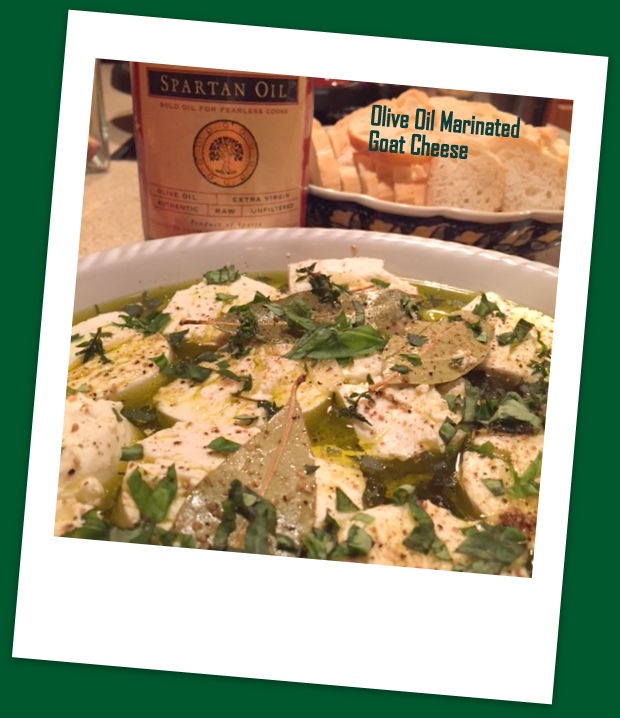 Olive OIl Marinated Goat Cheese
2016-01-12 07:56:41
Ingredients
2 logs of goat cheese, sliced in 1/2 inch slices
1 cup Spartan Olive Oil
4 bay leaves
1 tablespoon fresh ground mixed peppercorns
1 1/2 tablespoons fresh thyme
1 large clove of garlic, slivered
3 tablespoons fresh basil, slivered
Sliced baguette
Instructions
Place goat cheese in a serving dish with one inch sides. In a small saucepan, over medium-high heat, heat oil, bay leaves, pepper, and thyme until it sizzles. Pour hot oil over goat cheese. Sprinkle garlic and basil over cheese. Cover and refrigerate overnight. Bring to room temperature prior to serving. Serve with baguette slices.
Notes
Marinated goat cheese may be stored up to 2 weeks in the refrigerator.
A Passion for Entertaining http://apassionforentertaining.com/