I am not sure if I have ever mentioned that everything my mom cooked was from scratch. Why I mention this is that traditional green bean casserole includes a can of soup. Well, in my mom's kitchen, she would never use a can of soup in any recipe. Too many unnatural ingredients and too much sodium to pass my mom's cooking standards! So this recipe, is the perfectly titled; Mom's Green Bean Casserole. Made with ingredients that you do not need to Google to find out what they are. This is absolutely delicious and a perfect side dish for your Thanksgiving table.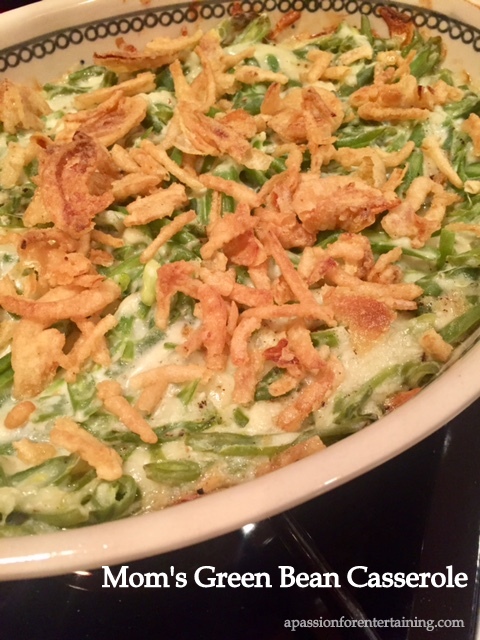 Mom's Green Bean Casserole
2016-11-14 07:11:49
Serves 8
Ingredients
2 tablespoons butter
2 tablespoons flour
1 cup sour cream
16 oz. green beans, cooked ( I used frozen french cut)
6 oz. shredded swiss cheese
1/2 teaspoon salt
1/2 teaspoon pepper
3 oz. french fried onions
Instructions
Preheat oven to 350 degrees. In a medium saucepan, melt butter. Blend in flour and stir over low heat until smooth. Stir in sour cream. Cook over low heat until combined and slightly thickened.. Add beans, cheese and salt and pepper. Toss gently. Pour into a 1 1/2 quart casserole dish. Bake for 25 minute or until hot and bubbly. Top with onions, return to oven for 5 minutes.
Notes
This recipe can be made ahead and refrigerated. You will need to increase the baking time if the casserole is cold when you put in the oven.
A Passion for Entertaining http://apassionforentertaining.com/