I am always trying new and different salads to serve. Many times I make a salad once and start trying new combinations. This salad is one that I have made over and over. It is perfect with grilled meats, poultry or fish. Add grilled chicken and you have a main dish salad. Easy to prepare with easy to find ingredients – my idea of a winning recipe.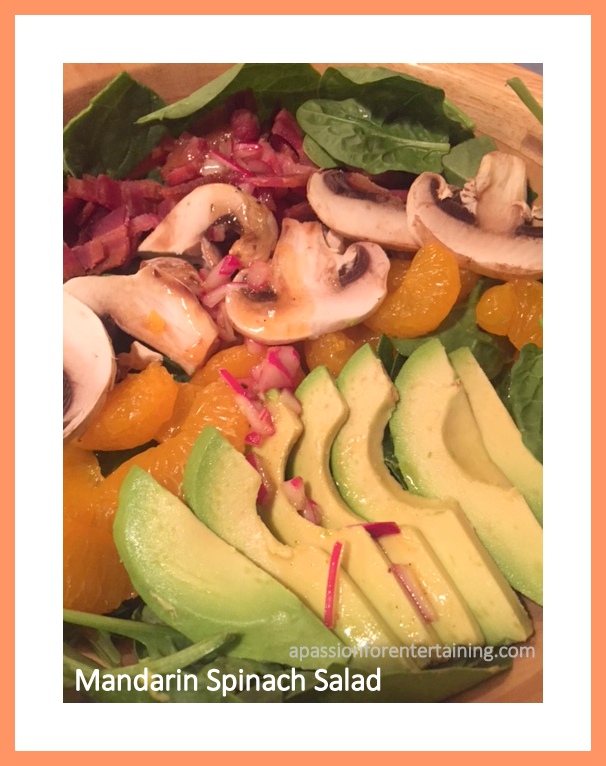 Mandarin Spinach Salad
2015-07-09 16:14:41
Serves 4
Ingredients
Fresh baby spinach
9 fresh mushrooms
4 slices cooked bacon, crumbled
1 11 oz. can mandarin oranges, drained
1 large ripe avocado, sliced
Dressing
1/2 cup olive oil
1/4 cup cider vinegar
1/4 cup sugar
1/2 teaspoon salt
1/2 teaspoon paprika
1/4 teaspoon dry mustard
1/8 teaspoon pepper
1/2 cup red onion, finely diced
Instructions
Combine the dressing ingredients and shake thoroughly. Refrigerate until ready to serve.
Toss the salad ingredients with the amount of dressing you prefer, just prior to serving.
A Passion for Entertaining http://apassionforentertaining.com/