This recipe has been a family favorite for many years. I know it originated years ago and I think it is time for a Layered Crab Dip revival. My mom always made this as well as her friends, this was their signature go to appetizer. I am sure the fact that it is quick, easy and delicious is the reason they all made this recipe. All I can say, I made it this past weekend, served it with water crackers and it was fantastic. This goes back to the old saying "Mothers are always right" I know mine was with this recipe!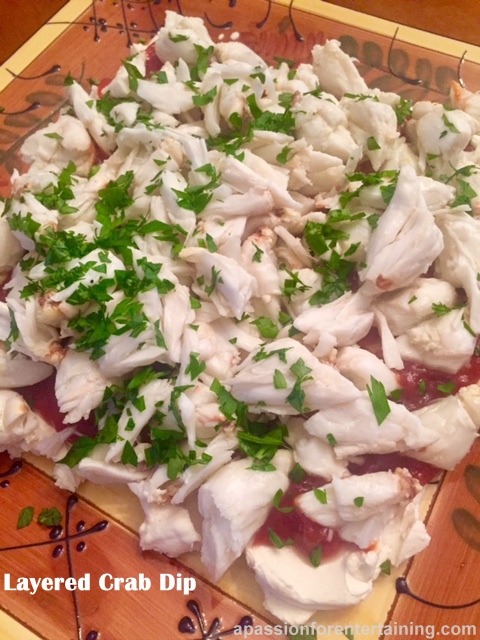 Layered Crab Dip
2016-10-25 05:57:55
Serves 8
Ingredients
12 oz. cream cheese, softened
2 tablespoons Worcestershire sauce
1/2 medium onion, grated
1 teaspoon fresh lemon juice
2 tablespoons mayonnaise
1/2 - 3/4 cup seafood cocktail sauce
12 oz. fresh jumbo lump crabmeat
2 tablespoons minced Italian parsley
Instructions
Assemble dip in the following order; spread on a serving plate
Layer 1 - cream together the cream cheese, Worcestershire sauce, onion, lemon juice and mayonnaise; spread on serving plate.
Layer 2 - spread cocktail sauce over cream cheese layer.
Layer 3 - Spread crabmeat over cocktail sauce.
Layer 4 - Top with minced parsley
Cover and refrigerate until ready to serve.
A Passion for Entertaining http://apassionforentertaining.com/