The life of a food blogger is so fun and interesting, and delicious! I just never know where my next Interesting Find will surface. This time, I can thank Facebook for this connection. Sushi Hachi was opening in DC and they put out a Facebook note that they were looking for local food bloggers. A friend of mine just happened to read their post and forwarded the note to me. I replied back to their request and a few weeks later I was sitting in their beautiful restaurant trying their delicacies. If you are a sushi fan, this is a must stop. For this post, I have a guest writer who volunteered to write about our experience at Sushi Hachi. Below is what our good friend Barry Landew, who has a wealth of knowledge when it comes to sushi, wrote about our experience. I could not have said it any better.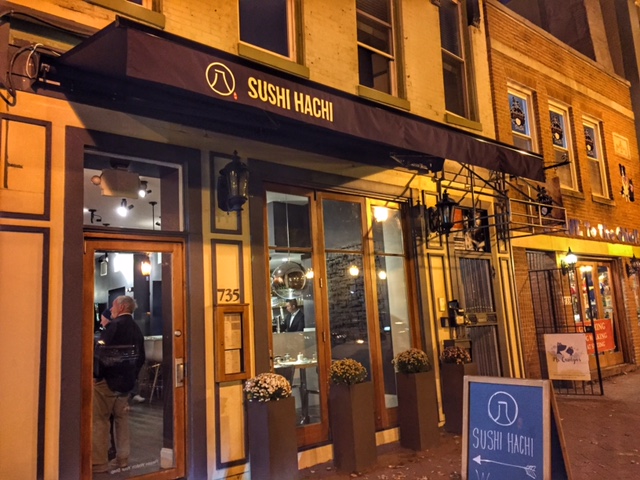 Nestled in the Eastern Market area of DC – home to Michelin-starred Pineapple and Pearls and Rose's Luxury – is the newest entry in the burgeoning Japanese restaurant scene. But unlike neighborhood sushi joints and overpriced ultra-contemporary Asian fusion concepts, Sushi Hachi combines unpretentious style with simple, authentic, and spectacularly fresh food. And while the Wagyu beef, elegantly cooked at the table on a 700° stone, is as tender as it is delicious, make no mistake – Sushi Hachi is all about the fish. And for good reason.
The 7-course $65 Omakase menu is a sushi lover's delight. Four of the seven courses featured sushi or sashimi – primarily nigiri style except for uni and ikura which were appropriately served gunkan. Rather than go the route of clever sounding and overstuffed sushi rolls, Sushi Hachi's selection, preparation, and presentation focuses on the fish. Our 5pc sashimi course featured chu toro (fatty tuna/scallion/daikon), sake (salmon/salmon roe), uni (sea urchin/cucumber), anago (sea water eel/nitsume), red snapper (tai), and tamago (sweet egg omelet). (Note: The $75 Premium Tasting Menu offers the same sashimi and nigiri courses but adds the Wagyu beef course and omits the cold noodle dish.)
Sushi Hachi takes the opposite approach, emphasizing simplicity and letting the quality of the food and its natural aromatics and flavor speak for itself. Even the selection of anago (saltwater eel) is a study in contrast, as the vast majority of American sushi restaurants prefer to serve unagi (sea eel) drenched in a sweet sauce which appeals to the American palette. In contrast, anago is naturally tender and sweet, with more subtle flavors and a texture that leaves the consumer wanting more. Kudos for being different…without being trendy.
While many sushi restaurants include toro on their menus, seldom is it available, and when it is, lovers of this tuna delicacy are usually forced to order it ala carte for an additional cost. When was the last time a sushi restaurant served chu-toro – the melt-in-your-mouth belly area of the tuna between the akami and the otoro – as part of a 5 or 7- piece selection? No one does…well, there's now at least one that does. Sushi Hachi sneaks in this quintessential nigiri as part of the 5 piece premium nigiri course, without pretense – letting the perfectly cut chu toro speak for itself. It is a memorable highlight that underscores Executive Chef Munehiro Mori and Owner/Restauranteur Steve Yoon's commitment to serve the freshest fish, all sourced fresh from around the globe. The menu also features a number of temaki sushi (handrolls), but the Omakase left us perfectly satiated and we'll have to wait until our next visit to try them.
Great food and attentive service combine for a fun meal that offers spectacular value for Japanese foodies and those who need their sushi fix alike. We're eager to see what the fish selections are the next time we visit, and with this team at the helm, we know that classic Japanese gems – from ankimo (monkfish liver) to engawa (flounder fin) – are not just on deck, they will be front-and-center for all to enjoy on the Omakase menu. We can't wait.
5 piece Sashimi Plate Smoked Sashimi 2 piece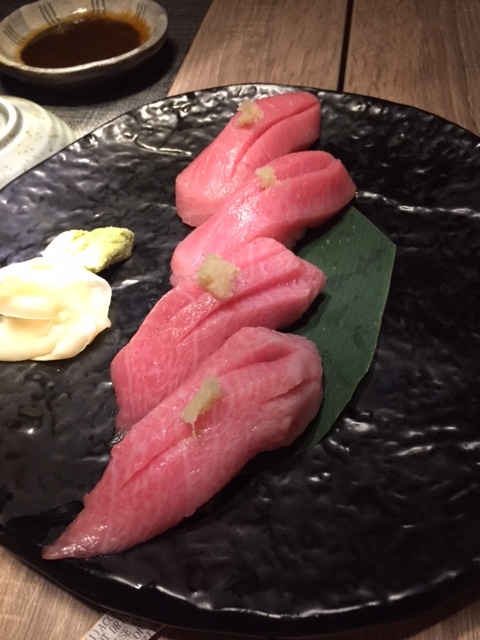 Chu Toro – Fatty Tuna/Scallion/Daikon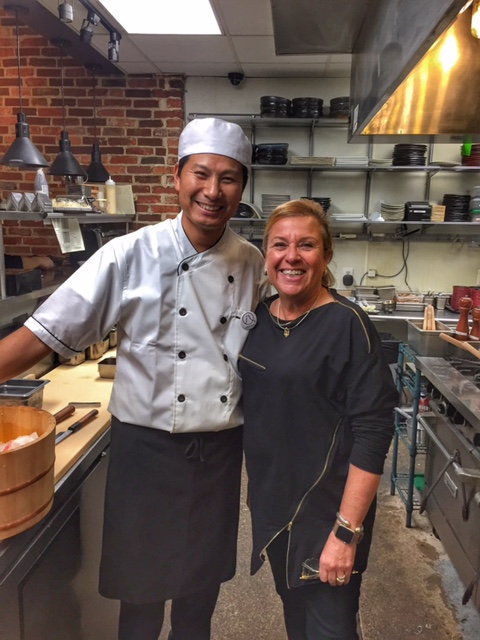 With Steve Yoon, Owner/Chef at Sushi Hachi