I am always looking for new food ventures and tracking food trends. Since everywhere you turn, oysters are playing a starring role, I wanted to check out the oyster world. I have to admit my knowledge was very limited. All of that changed after my visit to Rappahannock Oyster Company in Topping, VA. After driving through abundant farm land with brief glimpses of the water we finally approached our destination. You can't blink when you get near your next turn on to Lockies Road or you will cruise right past your turn, make a note since that is exactly what I did. What appears to be a neighborhood street dead-ends into the most beautiful point on the Rappahannock. With almost a 360 degree view, you have to pinch yourself and wish you had this view to look at each and every day. After taking in the amazing surroundings, I met Anthony Marchetti, Rappannock Chief Operating Officer, who gave me the most incredible look into the world of oyster farming. I had a very hands on tour from the early stages of an oyster larvae to the dynamics involved in farming oysters and eventually landing on the table of oyster lovers.
After the incredible tour, we were certainly ready to start tasting oysters. On site, they have their Merrior Tasting Room, the oyster equivalent of a Napa wine tasting room. This structure has evolved over the years from a one room office to the most beautiful venue on the water to enjoy spectacular views and fantastic food. During our tour, we met Pete Woods their resident chef. After meeting him, he asked what we were interested in having. I said, anything you would like us to try. What a taste treat we had. Our food adventure started with a selection of their oysters. Rappahannock River Oysters (sweet), Older Salt Oysters (briny), and Stingrays (mild). I love oysters, but these were hands down the best oysters I have ever had. I am sure having oysters that have been out of the water less than 24 hours is one reason these were so sensational. The oysters were followed by two of Pete's signature dishes, Crab Cake on grilled bread topped with Créole remoulade and "Stuffin Muffin", oyster stuffing, Edwards' bacon and peppercorn cream sauce. The 'Stuffin Muffin" is his creation from his childhood memories of this mothers after Thanksgiving meals where she would take her leftover oyster stuffing and top it with cream gravy. I can see why it is so popular – just amazing. We just couldn't leave until we finished with their S'mores donut. A thin slice of cake donut topped with ganache and marshmallow. We washed all of this down with Procesco (on tap) and Tangerine Wheat beer.
I cannot think of a better way than to spend an afternoon. If you are anywhere on the East Coast and the 95 corridor, this is one side trip that is definitely worth the trip. I am already planning my second visit!.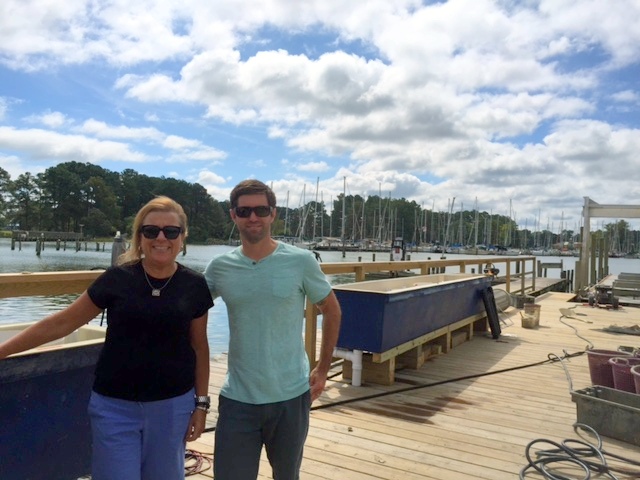 On the oyster dock with Anthony Marchetti, Rappahannock Oyster Company, COO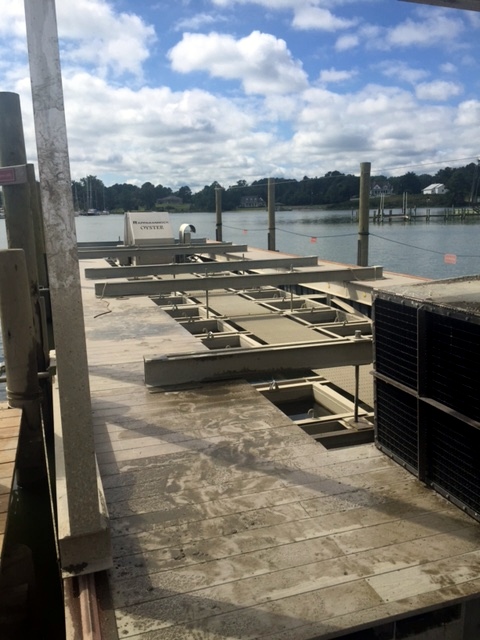 Stages of oysters floating in the Chesapeake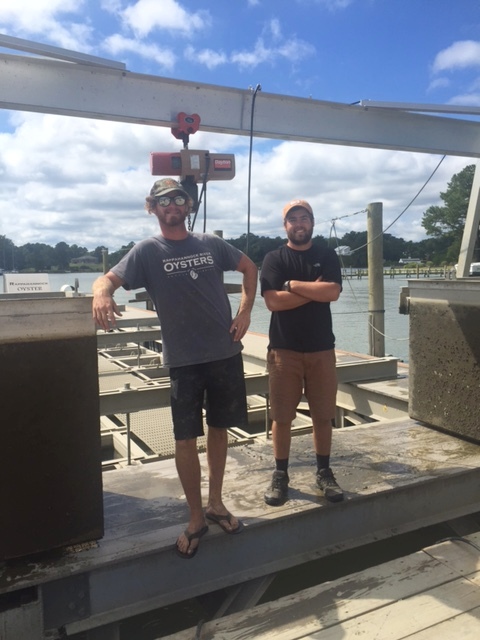 Some of the farm crew, Eli Nichols, Nursery Manager and Patrick Oliver, Chief Farm Officer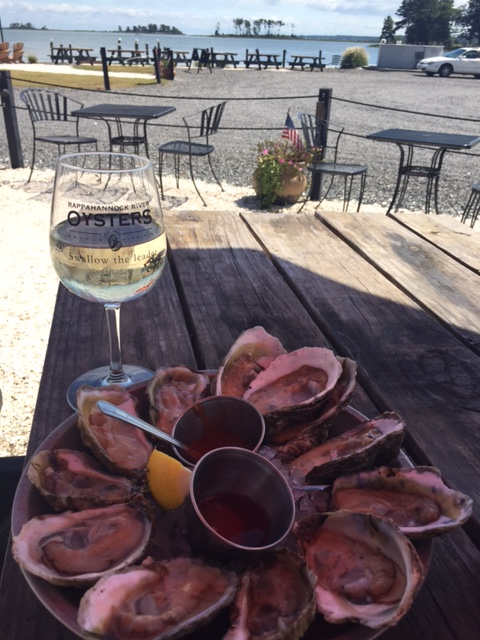 The final product – delicious!