This recipe is a family favorite recipe. Always met with rave reviews and anticipation. My husband grew up with this recipe; one that his mom used to make. I have been making this recipe for years and it is just too good not to add to your recipe rotation. Serve with plenty of rice.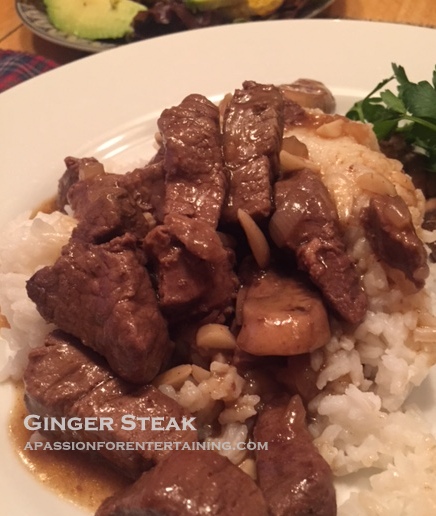 Ginger Steak
2015-03-10 06:28:29
Ingredients
1 inch ginger root, peeled and grated
1 1/2 to 2 pounds, sirloin steak, sliced diagonally, very thin
1 tablespoons butter
1/4 cup red wine
1 tablespoon coarsely chopped slivered almonds
1 teaspoon chili powder
1/4 teaspoon garlic powder
1 medium onion, chopped
8 oz. sliced mushrooms (optional)
2 cups beef broth
2 tablespoon plum jam
1 tablespoon red wine vinegar
1 tablespoon cornstarch dissolved in 2 tablespoons water
2 tablespoons sherry
Salt and pepper, to taste
Instructions
Brown meat in butter in a large saucepan or dutch oven. Remove beef from pan, add onions, ginger and mushrooms to pan and saute for 5 minutes over medium heat. Add red wine and cook for an additional 3-5 minutes, stirring to get all of the browned bits from the bottom of the pan. Add broth, almonds, chili powder, garlic powder, plum jam, red wine vinegar and almonds. Stir well to combine. Return browned beef to pan with any juices. Simmer slowly covered for 40 minutes. Add cornstarch mixture, increase heat to medium and stir until thick, (if you would like a thicker sauce, repeat cornstarch mixture). Add sherry, check seasoning, add salt and pepper, to taste.
A Passion for Entertaining http://apassionforentertaining.com/