Looking for an easy dessert for Thanksgiving that you can make today and serve on Thanksgiving? This recipe is a great additional to any Thanksgiving menu. I have always been one that loves to plan ahead and make ahead when entertaining, so I can relax and enjoy the day. This Frozen Pumpkin Pie is delicious and so very quick and easy. You start with a graham cracker crust, pumpkin, spices and ice cream blended together and frozen. It is in your freezer and ready when you are.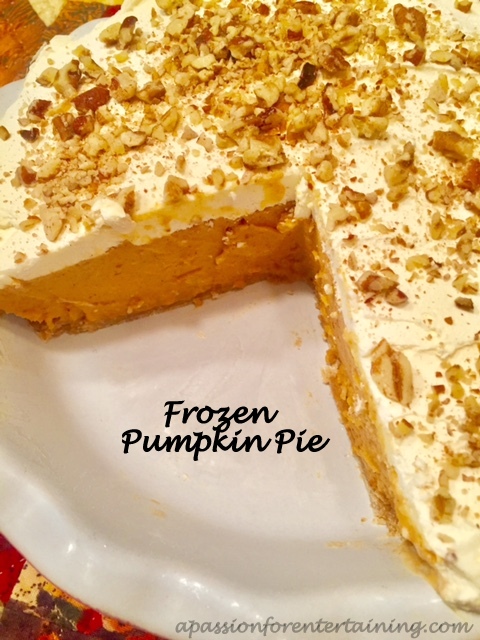 Frozen Pumpkin Pie
2016-11-19 12:05:39
Ingredients
1 cup canned pumpkin
1/2 cup packed brown sugar
1/2 teaspoon ground cinnamon
1/4 teaspoon ground nutmeg
1/2 teaspoon ginger
1/4 teaspoon salt
1 quart vanilla ice cream, softened
1 graham cracker crust
Sweetened whipped cream, chopped nuts (optional)
Instructions
Blend first five ingredients. In a large bowl, stir ice cream with a wooden spoon until smooth. Quickly stir in pumpkin mixture until blended Immediately pour into prepared crust. Cover and freeze util firm. Garnish with whipped cream and sprinkle with nuts, if desired.
Notes
Sweetened whipped cream
In a mixing bowl combine 1 cup heavy cream and 2 tablespoons confectioners sugar, whip until stiff peaks form.
A Passion for Entertaining http://apassionforentertaining.com/