Caprese salad is typically layers of fresh mozzarella, basil leaves, and tomatoes, drizzled with olive oil. When I was at the farmer's market this past Saturday, I saw the abundance of green tomatoes. I immediately thought of fried green tomatoes, this time with a caprese twist, Fried Green Tomatoes Caprese Style. Instead of frying the tomatoes with the traditional southern cornmeal crust, I used ciabatta bread crumbs, italian seasonings and parmesan cheese. Topped with fresh mozzarella, pesto and sun-dried tomatoes. Perfect to serve with any grilled meat or fish. A wonderful combination.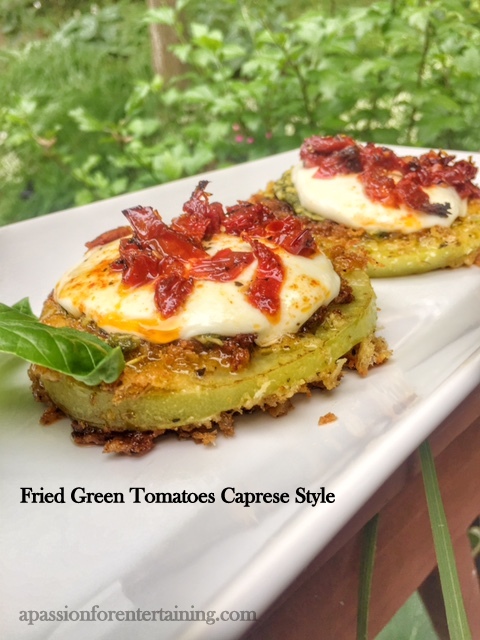 Fried Green Tomato Caprese Salad
Ingredients
2

large

green tomatoes

2

cups

bread crumbs (I used ciabatta bread and made crumbs)

1

teaspoon

Italian seasoning

1

tablespoon

grated parmesan cheese

1

egg

2

tablespoons

water

3

tablespoons

unsalted butter

3

tablespoons

olive oil

1/2

cup

prepared pesto

1/3-1/2

cup

sun-dried tomatoes, minced in olive oil

6

slices

fresh mozzarella
Instructions
Slice the two tomatoes in 6 - 1/4-3/8 inch slices. Combine bread crumbs, Italian seasoning, and parmesan cheese in a shallow bowl. Mix together the egg and 2 tablespoons of water in another shallow bowl. Dip each tomato slice in the egg mixture and then in the crumb mixture, pat each side of tomato so the crumbs adhere. Remove to a wire rack and let sit for 15 minutes. In a large skillet, heat the olive oil and butter over medium heat until bubbly around the edges. Preheat oven to 350 degrees. Fry the tomatoes in the olive oil and butter until golden brown, 7 - 10 minutes per side, turn carefully. Remove and place fried tomato slices on baking sheet. (At this point, you can make ahead and keep the tomatoes on the baking sheet for up to one hour before baking) Top each tomato slice with a dollop of pesto, one slice of fresh mozzarella cheese, and one tablespoon of sun-dried tomatoes. Ten minutes before serving, place baking dish in the oven and bake for 10 minutes or until the tomatoes are hot and the cheese has melted. Serves 6.