Focaccia is a flat oven-baked bread that is similar in style and texture to pizza dough. It is usually seasoned with olive oil, salt, and fresh herbs. It can also be topped with onions, cheeses, meats, and vegetables. My favorite way to serve Focaccia is with a side of olive oil for dipping. I cannot tell you how many times I have made this recipe. It is my go to bread to serve as an appetizer, or along side a main meal. I have also baked it in various baking vessels. This time I patted it thin and baked on a baking sheet. I have also baked round loaves in my cast iron skillets. It is a fantastic and easy recipe. If you are not a bread baker, this is a recipe to try. It is very forgiving and the results are marvelous.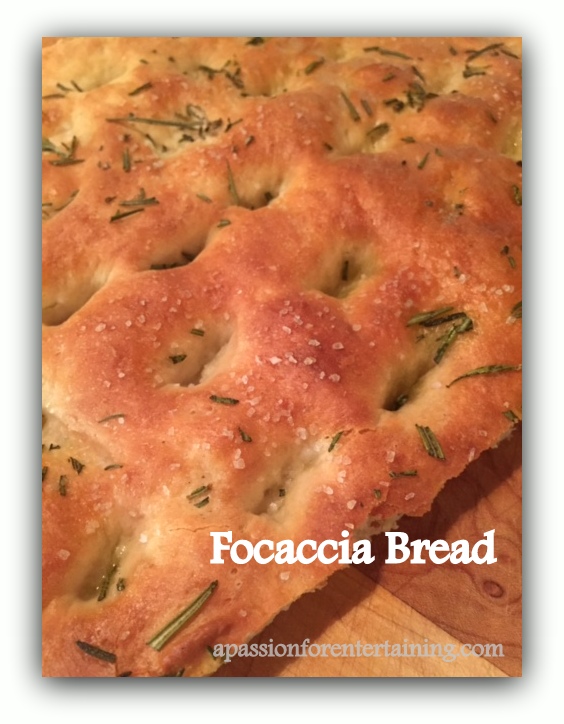 Focaccia Bread
2015-06-10 07:49:54
Ingredients
3 cups of flour
3/4 cup warm water
1 package (2 1/4 teaspoons) yeast
1 teaspoon salt
2 tablespoons olive oil
1 tablespoon honey
Desired toppings - I use coarse salt and fresh rosemary
Instructions
Place flour, salt, and olive oil in a food processor bowl. Mix briefly. In a separate small bowl, mix yeast and warm water. Add honey and allow to foam, approx.. 5 minutes. With the motor running, slowly add the liquid. Process until it forms a ball. If the mixture seems too dry, add additional water 1 tablespoon at a time.
(If mixing by hand, mix yeast and warm water. Add honey and allow to foam. Combine remaining ingredients in a large bowl. Add liquids and combine until it forms into a ball. Remove and knead on a floured board for approx.. 5 minutes until smooth.)
Cover dough and let rise until double in size, approx. 1 hour. Punch dough down. Put dough into desired greased baking dish. Pat into desired shape. Preheat oven to 425. Let dough rest for 30 minutes. Bake 15 - 20 minutes until golden brown. Serve warm.
Notes
After it has rested for 30 minutes in the baking dish, I like to take my thumb and make indentations, sprinkle with salt and rosemary prior to baking.
A Passion for Entertaining http://apassionforentertaining.com/