Whenever I want the side dish to be the show of the meal, this is my go-to recipe. I have a tendency to always serve this along side a roasted pork tenderloin. The flavor combination will have your mouth dancing!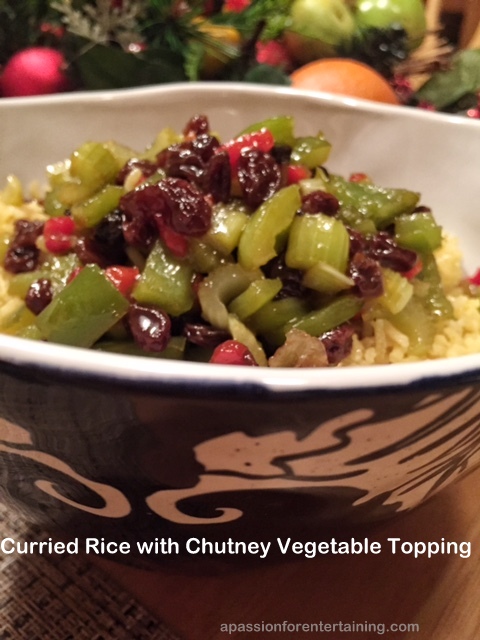 Curried Rice with Chutney Vegetable Topping
Ingredients
3

tablespoons

butter, divided

2

teaspoons

curry powder

1

cup

raw white rice

2

cups

chicken broth

2/3

cup

raisins

1/2

cup

chopped scallions

1/3

cup

chopped green pepper

1/3

cup

chopped celery

2

tablespoons

chutney

2

tablespoons

chopped pimiento

2

tablespoons

chopped almonds

1

tablespoon

cider vinegar

1

tablespoon

brown sugar

salt, to taste
Instructions
In a saucepan, combine 2 tablespoons butter, the curry powder and the rice. Cook over low heat for 5 minutes, stirring occasionally. Add the chicken broth and heat to boiling. Sir, cover, and cook over low heat until the liquid is absorbed, about 15 minutes. While the rice is cooking, combine the raisins, scallions, green pepper, celery, and remaining tablespoon of butter in a saucepan; cook over medium-low heat until the vegetables are just tender,stir frequently. Add the chutney, pimiento, almonds, vinegar, brown sugar, and salt, to taste. Stir until well blended, cook over low heat an additional 2 minutes . Place the rice on a serving platter, top with the vegetable mixture, serve.