Most quick bread recipes you see are for sweet breads, this is a savory quick bread. Another recipe gem from a family friend. Perfect to serve along side a bowl of soup, as an appetizer (slice thin and add to any cheese tray), or dipped in your favorite marinara sauce. Quick, easy and exceptionally good.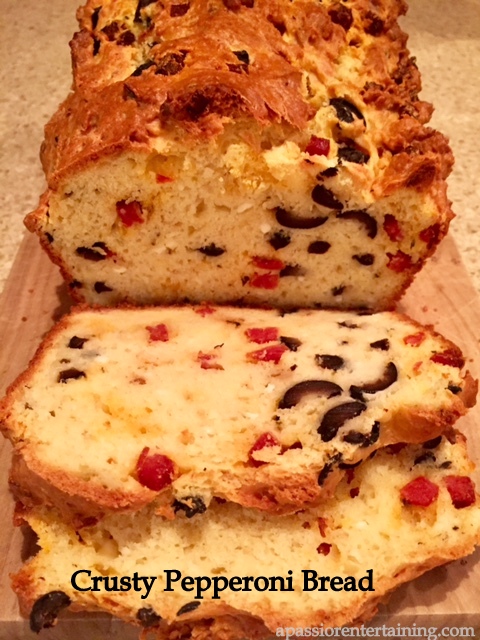 Crusty Pepperoni Bread
2017-01-24 13:46:13
A hearty quick bread
Ingredients
3 cups flour
2 tablespoons sugar
1 1/2 teaspoon baking powder
1/4 teaspoon baking soda
1 1/2 teaspoon salt
1/2 teaspoon dried Italian seasoning
1 8 oz. package cream cheese, softened
2 eggs
1 cup milk
1/4 cup vegetable oil
1 cup diced pepperoni (4 oz.)
1/4 cup chopped ripe olives
Instructions
In a large bowl, stir together the flour, sugar, baking powder, baking soda, salt and Italian seasonings; set aside. In a mixer bowl, beat cream cheese and eggs at low speed until smooth. Add milk and oil; continue beating until blended. Stir in pepperoni and olives. Add liquid mixture all at one to flour mixture; stir just until moistened. Pour into a greased 9 x 5 inch bread pan. Bake 375 degrees for 55 - 65 minutes or until a wooden pick inserted come out clean. Cool in pan 10 minutes. Invert onto a wire rack to cool completely.
A Passion for Entertaining http://apassionforentertaining.com/