One recipe I always remember growing up was my mom's Cream Puffs. She was known for your jumbo cream puffs oozing with cream in the center and drizzled with chocolate. She was always asked to make her Cream Puffs and if I was lucky, there would be one left that I could have for breakfast the next morning. I took her recipe and made one change – I replaced ice cream for the cream filling; you can select any flavor of ice cream and drizzle with caramel or chocolate sauce or a dusting of powdered sugar. A special dessert to serve, perfect for your Valentine.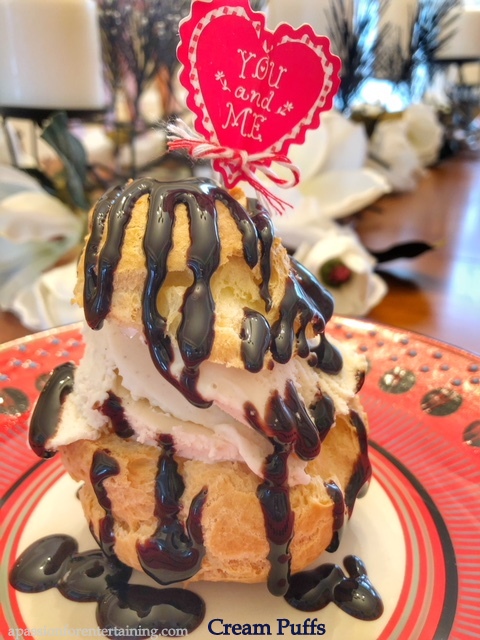 Cream Puffs
Ingredients
1/2

cup

water

1/4

cup

butter

1/2

cup

flour

2

eggs

ice cream, your favorite flavor

chocolate or caramel sauce or powdered sugar
Instructions
Preheat oven to 400 degrees. In a medium saucepan, bring water and butter to a boil. Reduce heat to low, add flour all at once and stir vigorously until the mixture forms a ball, approx. one minute. Remove from heat. Add eggs all at once to the flour mixture in the saucepan, immediately with a hand mixer, beat on medium-high speed until the mixture is smooth and glossy. (My mom always used a wooden spoon to beat in the eggs by hand, but I have found the hand mixer to be much easier) Spoon 1/4 scant cups of mixture onto parchment lined baking sheet. This will make 6 puffs. Bake 30 - 40 minutes until puffed and golden. Cool completely. Slice off top, remove any fragments of dough in the middle, fill with ice cream, drizzle with desired topping and serve immediately.