I was looking through my pantry for inspiration and there was Greek Olive Oil from Spartan Oil looking right at me. I immediately thought of making an olive oil cake. I have made these cakes before but this time I wanted to add a few things to make a truly unique cake. I started with assorted citrus, tossed in chopped rosemary and amaretto and topped it with a orange amaretto glaze. No mixer needed to assemble this gem. One mixing bowl, one whisk and basic ingredients and you have a sensational dessert!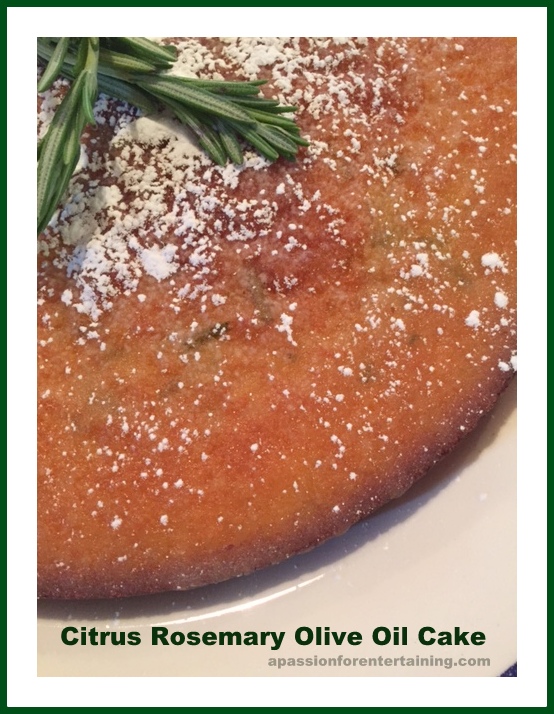 Citrus Rosemary Olive Oil Cake
2015-04-23 12:25:36
Ingredients
Zest of 1 orange, 1 lemon, and 1/2 lime
1/4 cup citrus juice (juice fruit after zesting)
4 eggs
1 cup sugar
1/2 olive oil
1 cup flour
1 teaspoon baking powder
1/4 teaspoon salt
1 tablespoon amaretto (1/2 teaspoon almond extract can be substituted)
1 tablespoon chopped fresh rosemary
Glaze
1/2 cup sugar
2 tablespoons orange juice
1 tablespoon amaretto (1 teaspoon almond extract can be substituted)
Instructions
Preheat oven to 350.
Grease and flour a 10 inch springform pan.
Combine flour, salt and baking powder in a small bowl. Add zest and rosemary, toss well.
Juice the fruits to make 1/4 cup.
In a large bowl, whisk the eggs. Add the sugar and whisk until frothy (approx. 1 minute). Add juice and whisk in. While whisking add the olive oil. Stir in the amaretto. Add the flour mixture and mix until batter is smooth. Pour into prepared pan.
Bake 350, 40 - 50 minutes until cake tester comes out clean.
Combine glaze ingredients and set aside while cake is baking.
Remove from oven, let sit 10 minutes.
Remove from pan and spoon glaze slowly over warm cake.
Cool completely.
This cake is better if it sits 24 hours prior to serving.
A Passion for Entertaining http://apassionforentertaining.com/