Every other Monday, I head to the local Fisher House and bake cookies. If you are unaware of the mission of the Fisher House Foundation, the Fisher House Foundation is best known for a network of comfort homes where military and veterans' families can stay at no cost while a loved one is receiving treatment. It is great to donate my time and my love of cooking to this terrific organization. When I am finished each time, the house has the smell of fresh baked cookies, a full cookie jar, guests who appreciate a touch of home after a long day and a smile on my face. It is one of the most rewarding volunteer experiences I have had. I have been compiling a group of cookie recipes from my Monday cookie baking. I made these last week – I hope you enjoy them.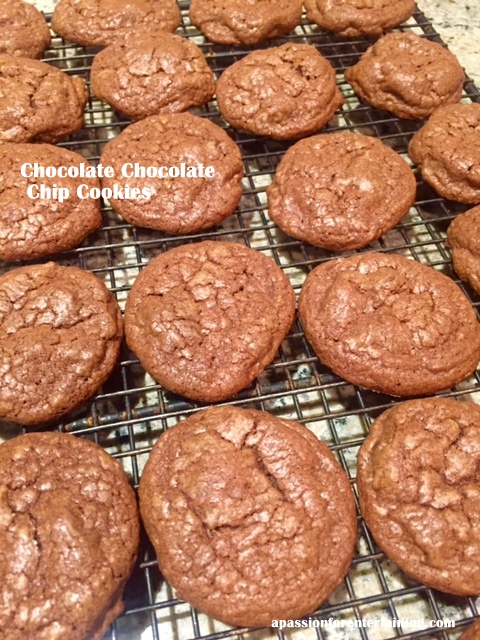 Chocolate Chocolate Chip Cookies
2016-09-02 04:48:04
Ingredients
1 cup (2 sticks) butter, room temperature
1 cup granulated sugar
1 cup packed light brown sugar
2 eggs
2 teaspoons vanilla extract
2 cups flour
½ cup unsweetened cocoa powder
1 teaspoon baking soda
½ teaspoon salt
1 cup semisweet chocolate chips
Instructions
Preheat oven to 350 degrees.
In a large bowl, beat butter and sugars with an electric mixer until smooth. Beat in one egg until completely incorporated; beat in last egg along with vanilla extract. In a separate bowl, combine flour, cocoa, baking soda and salt. Stir flour mixture into butter mixture until just incorporated; mix in chocolate chips.
Roll dough into 2-inch balls, or drop spoonfuls of dough 2 inches apart, onto ungreased baking sheets.
Bake in preheated oven until edges of cookies are firm, 10 to 12 minutes. Remove to wire racks. Dust warm cookies with powdered sugar, if desired.
A Passion for Entertaining http://apassionforentertaining.com/