On a recent trip to Fayetteville, NC we had dinner at a terrific bar/restaurant called Mac's Speed Shop. Their wings were hands down the best wings I have ever had. They smoked their wings and tossed them in a wonderful chipotle sauce. The thought of those wings made me think of grilling wings and then tossing them with a BBQ sauce with a hint of chipotles. These wings are truly finger lickin' good. Did you know the key to grilling wings is to have them touch each other while grilling to keep them moist and to turn them every 6-8 minutes. It takes about 35-40 minutes for the wings to be crispy on the outside and fall-off the bone tender. Serve them with your favorite blue cheese dressing or ranch dressing. Keep plenty of napkins handy – you will need them!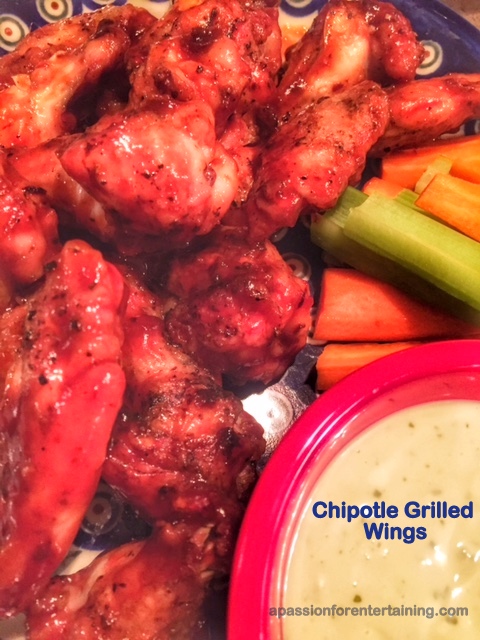 Chipotle Grilled Wings
Ingredients
1 1/2

pounds

chicken wings, cut

1/2

cup

honey

1/4

cup

brown sugar

1/4

cup

honey

1

tablespoon

chipotle chilies in adobo sauce

2

teaspoons

Worcestershire sauce

1/2

teaspoon

garlic powder

1//4

teaspoon

salt

1/4

teaspoon

pepper
Instructions
Cook wings over medium heat on the grill, turn every 6 - 8 minutes for approx. 35 minutes or until crispy and meat is falling off the bone. When grilling, the wings should be touching each other as they cook to keep them moist. While the wings are grilling, combine remaining ingredients in a large bowl. Remove wings from grill when finished cooking, place in bowl with sauce and toss until all are coated. Serve with blue cheese or ranch dressing on the side.