This is the most elegant meal but also the perfect meal for a weeknight dinner. The chicken is baked on a bed of spinach and mushrooms and topped with a lemon cream sauce with a touch of nutmeg. Easy to prepare and absolutely divine. This is a must try for those times when you need one more recipe for chicken.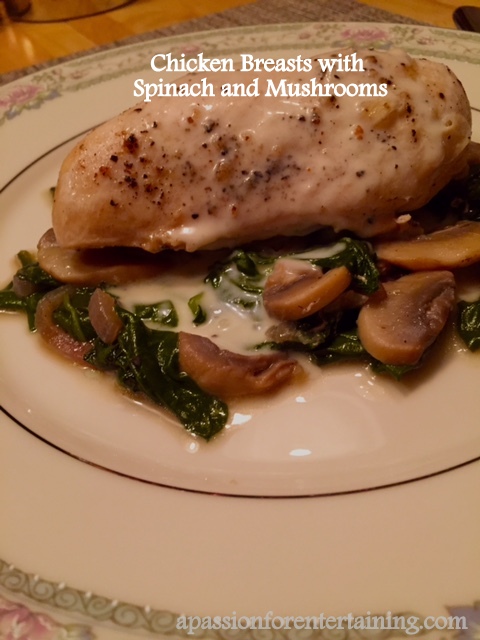 Chicken Breasts with Mushrooms and Spinach
2016-03-07 06:29:15
Serves 4
Ingredients
4 boneless skinless chicken breast halves
Salt and pepper, to taste
1 pound baby spinach
1 stick unsalted butter, divided
8 ounces mushrooms, sliced
1/2 red onion, thinly sliced
1/3 cup white wine
1/8 teaspoon grated nutmeg
Sauce
2 tablespoons butter
2 tablespoons flour
1 1/4 cup chicken broth
1/2 cup heavy cream
1/8 teaspoon ground nutmeg
2 tablespoons freshly squeezed lemon juice
Salt and pepper, to taste
Instructions
Preheat oven to 400 degrees.
Sprinkle chicken breast with salt and pepper. In a dutch oven, heat 1/4 cup butter over medium heat. Add chicken and cook each side until lightly golden brown. Remove from pan. Add the additional 1/4 cup butter and add onion and mushrooms. Cook, stirring frequently, for 3 minutes, add white wine and deglaze the pan scraping up all of the browned bits from the bottom of the pan. Stir in the spinach and cook until wilted. Top spinach with chicken. Cover and place in the preheated oven. Bake for 20 - 25 minutes. Remove from oven. To serve, place a layer of spinach and mushrooms on the plate, top with chicken and ladle sauce over.
Notes
Sauce
Melt butter in a saucepan over medium heat. Add flour and stir with a whisk until smooth. Cook for 4 minutes. Slowly add broth, bring to a boil and stir until thickened. Add cream and nutmeg. Stir in lemon juice and salt and pepper, to taste. Cook until heated through.
A Passion for Entertaining http://apassionforentertaining.com/