I am a great fan of picnics. I think it dates back to when I first met my husband and we lived in Northern Michigan. Beautiful parks and lakes were abundant and we always packed a picnic and headed out to explore the area. A great picnic can consist of a run to the deli and a great bottle of wine or a few make ahead specialties that you can prepare in advance and serve cold or at room temperature. This Caramelized Onion Tart is picnic perfect. You can make early in the day and it is easy to transport. I like to pack a bottle of good balsamic vinegar to drizzle on just prior to serving.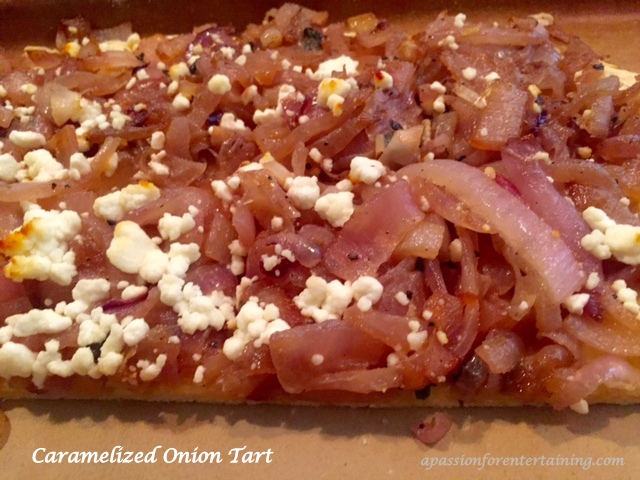 Caramelized Onion Tart
2016-06-19 06:00:09
Serves 6
Ingredients
Onion Topping
5 red onions, thinly sliced
3 tablespoons olive oil
2 tablespoons butter
1 tablespoon fresh thyme leaves
salt and pepper
1 teaspoon sugar
Crust
2 cups flour
2 teaspoons baking powder
1/2 teaspoon salt
3/4 cup milk
1/4 cup olive oil
2 tablespoons melted butter
1/2 - 3/4 cup goat cheese, crumbled
Balsamic vinegar
Instructions
Filling -In a large skillet melt the butter and the olive oil. Add the onions. Cook over medium high heat for 10 minutes, stirring frequently. Add the thyme, salt and pepper (to taste) and sugar. Reduce heat to medium low and cook and additional 20 minutes, stir frequently. Remove from heat and cool.
Preheat oven to 425 degrees.
Crust-In a medium bowl combine the dry ingredients. Add the milk, olive oil and butter. Mix until all is incorporated. Place dough on a floured surface and knead a few times. Roll into a rectangle approximately 10 x 14 inches. Place on a baking sheet.
Cover with onion filling. Sprinkle with goat cheese.
Bake for 30 minutes. Remove and cool in pan on a wire rack. Cut into squares.
If desired, drizzle with balsamic vinegar when serving.
A Passion for Entertaining http://apassionforentertaining.com/