The combination of salty and sweet is fantastic in this recipe. A great combination of flavors and very easy to make. After a wonderful meal, many times just one small sweet is all you need to finish a meal. I like to serve small bites for dessert and these are perfect. These would pair great with a Tawny Port after dinner.
After making this recipe for my photo shoot, I sent the remaining bars to work with my husband to share. Reviews were outstanding.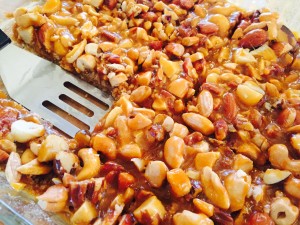 Salted Caramel Nut Bars
2014-12-30 04:36:01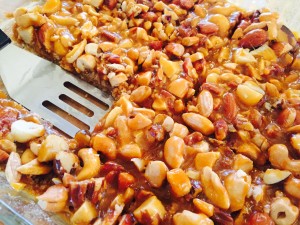 A great salted caramel bar.
Ingredients
1 1/2 cup flour
3/4 cup packed brown sugar
1/4 teaspoon salt
1/2 unsalted butter, softened
2 cups salted mixed nuts
1 cup butterscotch chips
1/2 cup light corn syrup
2 tablespoons unsalted butter
Instructions
Preheat oven 350°
Combine flour, brown sugar and salt in a medium bowl.  Cut in butter with a pastry blender. Press mixture into an ungreased 9 x 13 pan.  Bake 15 minutes, cool 5 minutes.
Chop nuts slightly.  Sprinkle over cooked crust.  Combine remaining ingredients in a saucepan and heat over low heat until all of the chips have melted.  Drizzle mixture over nuts.  Bake 5 minutes.  For ease in cutting, cut bars while warm.
A Passion for Entertaining http://apassionforentertaining.com/