These two recipes are a terrific combination for brunch. I started the egg casserole with a layer of hash brown potatoes, topped with Pepper Jack and Swiss cheese, ham and eggs. I prebaked the hash browns, topped them with cheese, ham and eggs and baked until it was a golden puff. While the casserole was baking, I browned breakfast sausages, added sliced apples, a touch of brown sugar, salt and pepper. I think I have a perfect breakfast duo for any brunch.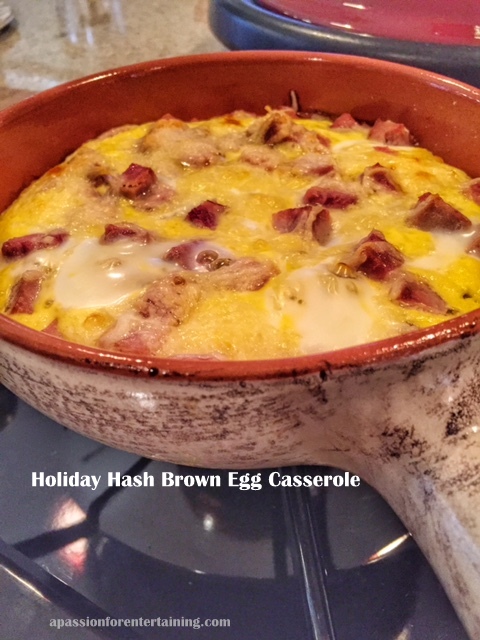 Holiday Hash Brown Egg Casserole
Ingredients
1 1/2

cups

frozen loose-pack hash brown potatoes

1/2

cup

shredded Pepper Jack cheese

1/2

cup

diced fully cooked ham

1/2

cup

shredded Swiss cheese

2

eggs, beaten

1/2

cup

half and half
Instructions
Thaw potatoes, press between two sheets of paper towels to remove excess moisture. Grease a small casserole dish. Arrange potatoes evenly in the bottom of the casserole dish. Bake potatoes uncovered in a 400 degree oven for 20 minutes. Remove casserole from oven and cool for 10 minutes. Reduce oven temperature to 350 degrees . .Layer Pepper Jack cheese, ham, and Swiss cheese over the potatoes. Mix together the eggs and half and half. Pour over potato cheese mixture in casserole. Bake uncovered for 25 minutes or until center appears set. Cool 5 minutes before serving.

This recipe can easily be doubled.
Apple Breakfast Sausage
Ingredients
1

pound

fresh pork sausage links

4

medium

cooking apples, cut into wedges

3

tablespoons

brown sugar

1

tablespoon

lemon juice

salt and pepper, to taste
Instructions
In a large 12-inch skillet, cook sausage over medium heat, approximately 10 minutes or until no longer pink. Drain and discard pan juices. Cut sausage links in half. Return links to the skillet. Add apple wedges. Then sprinkle with the brown sugar, lemon juice, and salt and pepper. Cover and cook over medium-low heat for 10 - 15 minutes or until apples are just tender. Stir once or twice while cooking.