Some might call this the cheaters way to make risotto – I call it the most magnificent way to make risotto! If you have made risotto you know that it requires one hundred percent of your attention; constantly ladling in broth and stirring. This recipe is so quick and easy – mix, forget, stir-in and enjoy! I cannot tell you how delicious Baked Risotto with Italian Sausage and Sun-Dried Tomatoes is – you will think you are in one of your favorite Italian restaurants. This is one of my go-to recipes any day of the week. Perfect for a weeknight meal or for entertaining. I would love to hear your comments on this recipe – I think you too will be thrilled with the final results.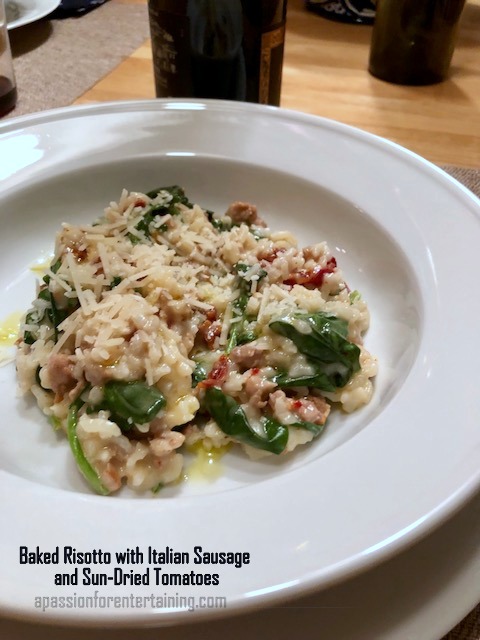 Baked Risotto with Italian Sausage and Sun Dried Tomatoes
Ingredients
2

tablespoons

olive oil

2

cloves

garlic, minced

1

cup

arborio rice

3 1/2

cups

chicken broth

1/2

cup

grated Parmigiano-Reggiano, plus more for serving

1/2

pound

Italian sausage, cooked and crumbled, hot or sweet variety

1/4

cup

heavy cream

1/3

cup

diced sun dried tomatoes in oil

3

cups

fresh spinach (optional)

salt and pepper
Instructions
Preheat oven to 400 degrees. In an dutch oven heat the olive oil. Add the garlic and rice and cook over moderate heat, stirring until very fragrant, approx 2 minutes. Stir in the broth and bring to a boil. Cover and bake for about 20 minutes, until the rice is tender. Stir in the 1/2 cup of cheese, Italian sausage, heavy cream and spinach. Stir until the spinach begins to wilt, cover and bake an additional 2 - 3 minutes. Season with salt and pepper, to taste, stir until well combined. To serve, drizzle with olive oil and top with additional cheese.