Looking for an easy dessert for your next tailgate or wine picnic? Empanadas are easy to make and a great make and take treat. I was thinking of making fried apple pies but I really would prefer to bake than fry. I had a few empanada wrappers left over from making my lamb stew empanadas and decided to make apple empanadas. These are so easy to make when you use prepared wrappers. I received a tip from a dear friend of mine about La Salenta empanada wrappers for baking (read the wrapper, some are for frying and some for baking). They are flaky and delicious and made for convenience. This brand is under the General Mills umbrella of products and should be easy to find in most locations. I purchased mine at the local mart specializing in international foods. These would be equally delicious with any filling you select, I must admit the apple filling is one of my favorites.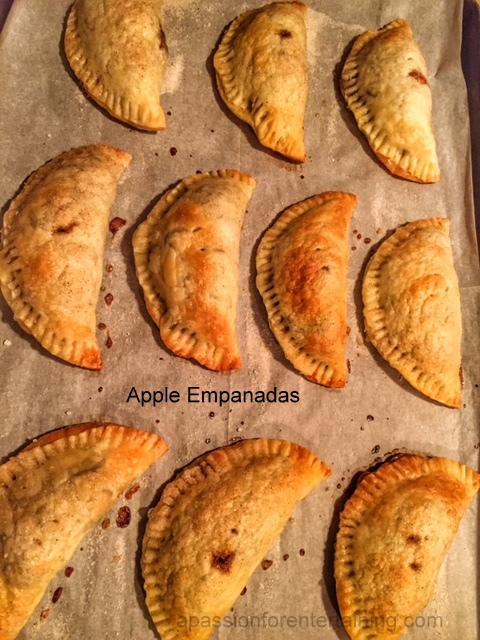 Apple Empanadas
Ingredients
10

empanadas wrappers

2

apples, small diced

2

tablespoons

butter

1/4

cup

brown sugar

1/2

lemon, juiced

2

teaspoons

ground cinnamon

1/4

teaspoon

ground cloves

pinch

nutmeg

pinch

salt

1/3

cup

dried cranberries

1

egg, beaten

milk, to brush on tops

sugar, to sprinkle on tops
Instructions
In a medium skillet, melt butter over medium heat. Add apples, brown sugar, cinnamon, cloves, nutmeg, lemon juice and salt. Cook 20 - 25 minutes or until the apples are soft and the sauce has reduced. Stir frequently. Stir in cranberries. Cool filling.

Preheat oven to 375 degrees. Take each empanada wrapper and brush sides with beaten egg. Place approx. 1 tablespoon of the filling in the middle of each wrapper. Fold in half and pinch to seal. Crimp edges with a fork. Place on parchment lined baking sheet. Repeat until you have filled all of the wrappers. Make two small slices in the top of each empanada. Brush the top of each with milk and sprinkle with sugar. Bake for 25 minutes or until golden brown.