We just love mussels. I have cooked them many different ways, my favorite recipe is my Angry Mussel recipe. We typically have mussels every Friday night for dinner during the summer months. I just serve a steaming pot of mussels with bread to dip in the sauce. Very casual, fun and delicious way to entertain and finish a busy week. The sauce can be made before your guests arrive and all you need to do is bring it to a rolling boil and steam your mussels for approximately five minutes. A great way to host a casual summer dinner party.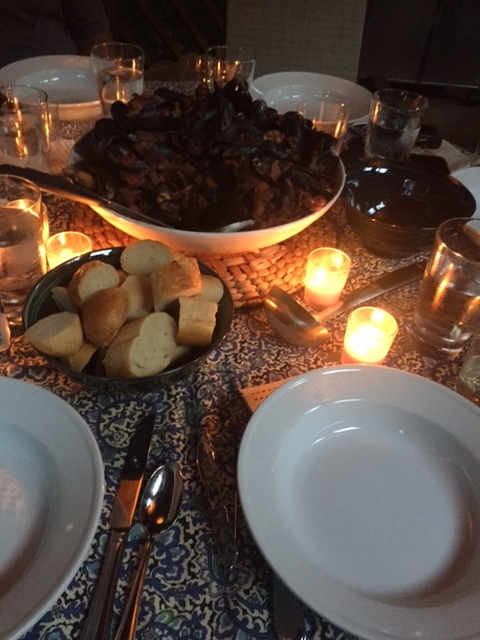 A steaming bowl of mussels and great wine (we served 2012 Januik Riesling from Bacchus Vineyard – Columbia Valley) always a great evening!
Angry Mussels
2015-06-14 08:32:39
Ingredients
Mussels -(I plan each bag of mussels serves 2)
2 tablespoons olive oil
1/2 cup chopped celery
1/2 cup chopped onion
1/2 cup chopped carrot
1/2 cup chopped fennel
2 garlic cloves, chopped
4 spicy Italian sausage links, precooked, diced (I use Niman Ranch brand)
1 32 oz. can of fire roasted chopped tomatoes
1 1/2 cups red wine
1 cup heavy cream
1 teaspoon salt
1/2 teaspoon pepper
Instructions
Heat olive oil over medium high heat in a large Dutch oven. Add celery, onion, carrots and fennel. Cook and stir occasionally until the onions are transparent 5 - 8 minutes. Add sausage and garlic. Stir and cook an additional five minutes. Add tomatoes, wine and salt and pepper. Bring to a boil, reduce heat to low and cover to 45 minutes. Stir occasionally, if sauce appears to be too thick, add additional wine. Rinse mussels and check for any cracked shells or open shells - discard those mussels. Refrigerate mussels until you are ready to cook them. When you are ready to cook the mussels, add the cream to the sauce and bring the sauce to a rolling boil. Add the mussels and cover. Cook over high heat for approximately 5 minutes or until all of the mussels have opened. Discard any mussels that do no open.
Serve immediately.
A Passion for Entertaining http://apassionforentertaining.com/