I have to admit that I prefer to serve fruit based desserts after dinner. I think they are the perfect ending to a meal, I also prefer to serve small portions so everyone can enjoy a small sweet treat after an enjoyable dinner. This time I was pairing a dessert after an Indian inspired meal. I served this Apricot Almond Tart and it was a perfect ending to the meal. I served it straight from the refrigerator with a small dollop of peach ice cream. Oh so cool and refreshing…a great combination.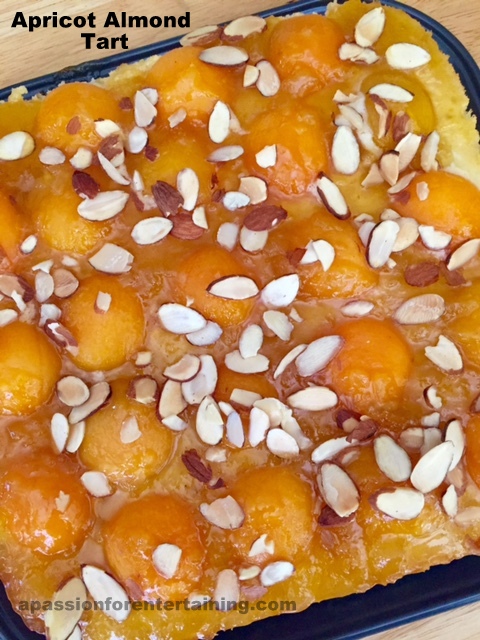 Apricot Almond Tart
2016-08-22 05:03:21
Serves 10
Ingredients
CRUST
1 1/4 cup flour
1 tablespoon sugar
1/2 cup butter, softened
1 egg yolk
FILLING
1/2 cup butter, softened
1/2 cup sugar
6 ounces almond paste
2 large eggs
2 teaspoons flour
TOPPING
2 14 oz. cans apricot halves, drained
4 tablespoons brandy
1/2 cup apricot preserves
1/4 cup pineapple preserves
Sliced almonds, toasted
Instructions
Crust - mix flour and sugar. Using a pastry blender or food processor, combine butter and egg yolk. Add flour and sugar combination and blend until mixture resembles a coarse meal. Spread into a 10 inch springform pan. Press mixture into plan. Bake 350 degrees for 15 minutes. While the crust is baking, make the tart filling. Cream butter and sugar until light. Add almond paste in small pieces and mix until smooth. Add eggs, one at a time. Stir in flour. Pour mixture over prepared crust and bake 20 minutes. Remove tart from oven, carefully place apricot halves on the tart. In a small saucepan, heat preserves, remove from heat, stir in brandy. Spoon over tart. Sprinkle with almonds. Refrigerate several hours or overnight.
A Passion for Entertaining http://apassionforentertaining.com/