Looking for a creative snack to serve next time you entertain? Try Soft Pretzels. Yes, this recipe uses yeast and I know that some of you may shy away from any recipe using yeast. I will guarantee you that everyone will be successful with this recipe. It is easy and the results are spectacular. To make these even more enticing, add dipping sauces of your choice. You friends and family will go crazy for these. You see the lines in the malls for the soft pretzels, make them at home and you just might have a new requested treat. Enjoy!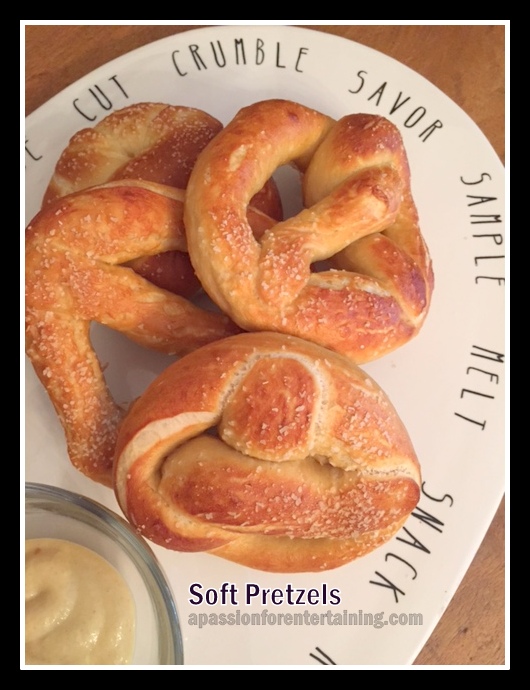 Soft Pretzels
2015-04-14 14:44:53
Ingredients
1 package active yeast
1 1/2 cups warm water
1/4 cup brown sugar
4 1/2 cups flour
Baking soda
Kosher salt
1 egg, beaten and mixed with 2 tablespoons water
Instructions
Preheat oven to 450.
In a mixing bowl, combine yeast, warm water, and brown sugar. Let stand for 5 minutes. Add flour and beat with dough hook until smooth. (if you do not have a mixer with a dough hook, gradually add flour and stir until all is incorporated. Kneed dough until the mixture is smooth)
Let stand 5 minutes. Fill a non-reactive deep sauce pan with water, add 2 tablespoons of baking soda for each cup of water, bring to a boil.
Divide dough into 12 even pieces. Roll each piece into a long rope (approx. 18 - 24 inches), twist into a pretzel shape.
Drop each pretzel into the boiling water for 10 seconds. Remove with a slotted spoon and arrange on a greased baking sheet. Brush each pretzel with egg wash and sprinkle with salt.
Bake at 450 for 8 minutes or until golden brown.
Notes
If you are not planning on serving these immediately, bake without the sprinkle of salt on top. When you are ready to serve, warm the pretzels in the oven, brush with melted butter and sprinkle with salt.
A Passion for Entertaining http://apassionforentertaining.com/