This appetizer highlights the warm goat cheese layer that supports the pepper and fennel topping. Perfect make ahead appetizer that you bake ten minutes prior to serving. Perfect accompaniment for an outdoor party with a marvelous glass of wine. That is my type of entertaining!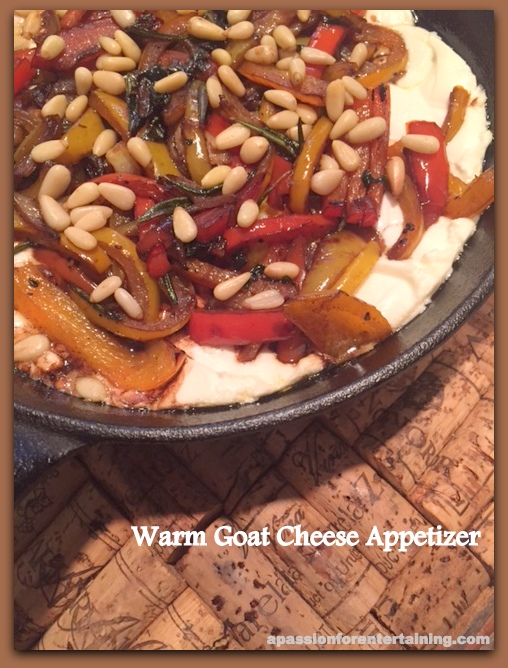 Warm Goat Cheese Appetizer
2015-04-25 14:30:19
Ingredients
I small fennel bulb, thinly chopped
3 assorted color bell peppers, thinly sliced
1 tablespoon fresh rosemary
1 tablespoon fresh basil, chopped
Salt and pepper, to taste
2 tablespoons balsamic vinegar
2 tablespoons olive oil
1 log of goat cheese
2 tablespoons pine nuts
Crackers for serving
Instructions
Slice goat cheese and place in a small ovenproof baking dish. Press goat cheese to cover bottom of dish.
In a medium skillet, heat the olive oil. Add the fennel, peppers, rosemary, basil, salt and pepper and cook over medium high heat for 5 minutes, Stir frequently. Remove from heat and add balsamic vinegar. Spoon over goat cheese. Top with pine nuts. Bake 350 for 10 minutes.
Serve with crackers.
A Passion for Entertaining http://apassionforentertaining.com/