The name explains it all – the pizza toppings are on the bottom and the crust is on top. You can add or substitute any pizza ingredients that you like. You simply pour over the crust batter and as it bakes it puffs and turns golden brown. Perfect to serve with a salad for a casual dinner.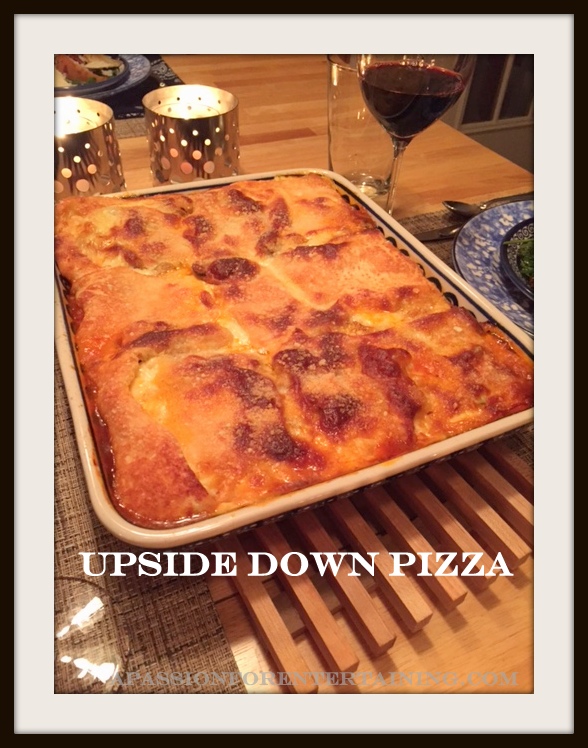 Upside Down Pizza
2016-02-01 06:16:28
Ingredients
1 pound bulk Italian sausage, mild or hot
1 large onion, chopped
2 cloves garlic, minced
4 oz. can sliced black olives, sliced
1 cup pizza or marinara sauce
1/2 pound sliced mushrooms
1 green pepper, diced
10 oz. sliced mozzarella cheese
2 eggs
1 cup milk
1 tablespoon olive oil
1 cup flour
1/4 teaspoon salt
1/4 cup freshly grated parmesan cheese
Instructions
In a large skillet, crumble sausage and cook over medium heat. Add onion and garlic, stirring frequently until sausage is cooked and onion is transparent. Drain sausage mixture and return to skillet. Add olives, sauce, mushrooms, green pepper, and heat until bubbly. Pour into an ungreased 9 x 13 inch pan. Top with sliced mozzarella slices.
In a blender, blend milk, eggs, milk, oil, flour and salt until smooth. Pour mixture evenly over mozzarella. Sprinkle with parmesan cheese.
Bake uncovered in a 400 degree oven until the crust is puffed and golden brown about 25 minutes. Serve immediately.
A Passion for Entertaining http://apassionforentertaining.com/