I am definitely a spur of the moment cook. Last week was a very busy week and I was planning on making baked chicken in a herb sauce. Thinking I had chicken broth at home I started to gather my ingredients for dinner, but to my surprise I did not have the chicken broth that I thought I had on hand. So, time to conjure up a new recipe. I think this one is a real winner. Just like our grandmothers, you make dinner with what you have available. One look around my kitchen and I came up with an onion, garlic, red wine, chicken breasts, crushed tomatoes and a few other additions and an hour later, one of the best chicken recipes I think I have made!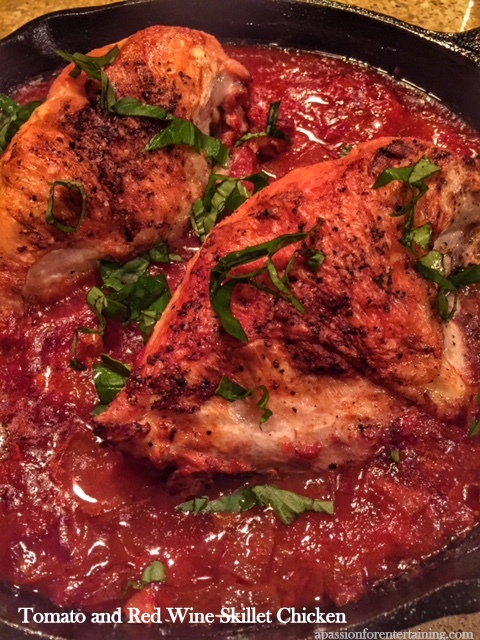 Tomato and Red Wine Skillet Chicken
Ingredients
2-4

chicken breasts, bone-in, skin-on

2

tablespoons

olive oil

1

tablespoon

butter

1

medium onion, diced

2

cloves

garlic, minced

2

cups

crushed tomatoes

1

cup

red wine

1/4

teaspoon

crushed red pepper flakes

salt and pepper, to taste

fresh basil, minced
Instructions
Preheat oven to 375 degrees. Salt and pepper chicken. In a large cast iron skillet over medium-high heat add olive oil and butter. When hot, place chicken in skillet skin side down, cook until skin is golden brown. Remove chicken from skillet. Add remaining ingredients and cook 1 - 2 minutes, add salt and pepper, to taste. Nestle the chicken into the sauce. Place skillet in the oven and bake for 45-50 minutes. Remove from oven, top with fresh basil and serve from the skillet.

Serve with a side of pasta, if desired.