We usually go out to our local Mexican restaurant to cure our Mexican food cravings. When I served this dish, we agreed this tasted like something we would have ordered from our favorite Mexican restaurant. I had leftover chicken and wanted to prepare something using the corn tortillas I had in the refrigerator. I have to say this was so good, we can't wait to have the leftovers (now, in my opinion, that is a good recipe).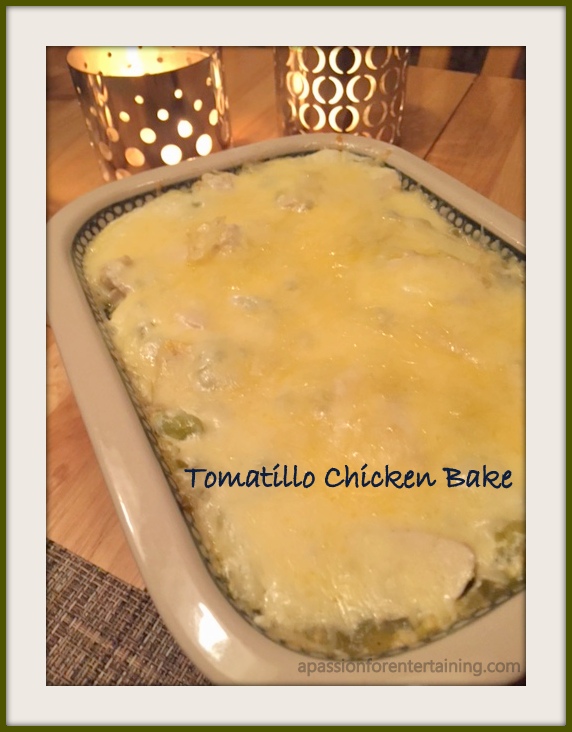 Tomatillo Chicken Bake
2016-01-27 05:42:33
Serves 6
Ingredients
1 cup sour cream
1/4 cup milk
1 13 oz. can tomatillos, drained
1 clove garlic
1 tablespoon olive oil
1/2 cup chopped onion
1 4 oz. can diced green chiles
6 6-inch corn tortillas
2 cups shredded, cooked chicken
1 cup grated Monterey Jack cheese
Instructions
This dish is best if assembled ahead of time and heated before serving.
Grease an 8 x 8 inch baking dish.
Mix together sour cream and milk and set aside. In a blender or food processor, blend tomatillos and garlic. In a small saucepan, heat oil and cook onion and green chiles until onions are transparent. Mix in tomatillo mixture and set aside. Cut tortillas into quarters. Layer the following in the prepared pan - 1/3 of the tortillas, 1/3 of the chicken, 1/3 of the tomatillo sauce, 1/3 of the sour cream and 1/3 of the cheese. Repeat layers, finishing with cheese.
Bake at 350 degrees covered for 30 minutes, remove cover and bake an additional 10 minutes.
Notes
Serving a crowd? Since you can make this ahead, it would be perfect for entertaining. Simply double this recipe, use a 9 x 13 inch baking dish. This would easily serve 10 - 12. Serve with sliced avocado, shredded lettuce, and diced tomatoes. Add a side of black or refried beans and you are ready for a fiesta!
A Passion for Entertaining http://apassionforentertaining.com/