Tarragon is an herb with narrow pointed leaves and has a distinctive mild anise or licorice flavor. It is best when paired with artichokes, béarnaise sauce, carrots, chicken, eggs, lobster, mushrooms and onions. This recipe highlights the flavor of tarragon adding a wonderful flavor combination to this dish. The chicken is easy to prepare and the results are an exciting new twist that highlights chicken and mushrooms. This is one to try, you will be glad you did.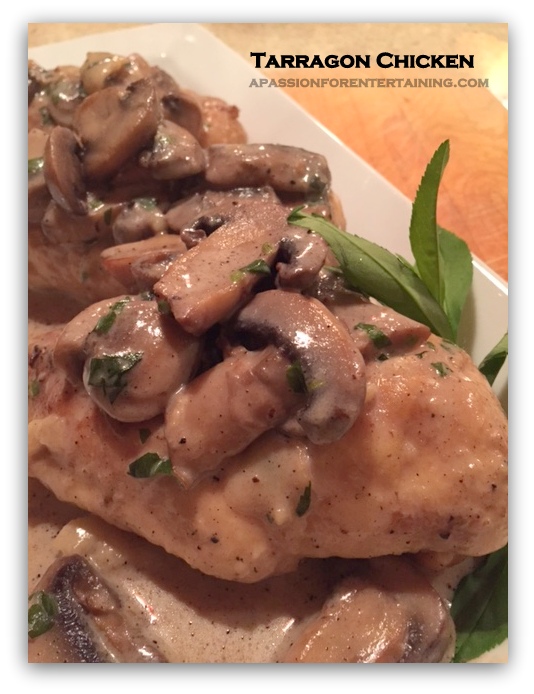 Tarragon Chicken
2015-03-19 19:37:56
Ingredients
2 boneless skinless chicken breasts, pounded 1/2 inch thin
1/4 cup plus 2 tablespoons, flour
4 tablespoons butter
8 oz. sliced mushrooms
2 tablespoons flour
1 1/4 teaspoons minced fresh tarragon
1 cup chicken broth
1/2 cup half and half
Salt and pepper, to taste
Instructions
Preheat oven to 325
Dredge chicken breasts in 1/4 cup flour. Over medium high heat melt butter in skillet. Add chicken and brown on both sides. Remove chicken to a baking pan and put in preheated oven to finish cooking, while preparing tarragon sauce.
Add mushrooms to skillet, reduce heat to medium low and cook for 5 minutes, stirring frequently. Sprinkle mushrooms with 2 tablespoons of flour. Toss to coat and slowly add chicken broth and tarragon. Cook until thickened.
Slowly add the half and half, season with salt and pepper.
Return chicken to pan and heat through.
A Passion for Entertaining http://apassionforentertaining.com/