I had a large sweet potato sitting in my vegetable basket and thought today would be the perfect day to make Sweet Potato Rolls. The leaves are turning and I am thinking fall foods. This recipe makes thirty-six rolls so a definite recipe to try if you are having company over the fall holidays. The first batch I made dinner roll size and then decided to give a creative twist and make pumpkin shaped rolls – easy to do – take your round dinner rolls, before baking flatten sightly, cut eight small cuts around the edges. Poke the middle with the end of a wooden spoon, insert a sliver of pecan and bake.
I came across Georgia Grinders at a Farmers Market in Atlanta. I am a true fan of peanut butter and thought I would pick up a jar of their pecan butter. When these rolls were baking, I thought the pecan butter would be a wonderful accompaniment and I sure was on target. A wonderful combination of flavors.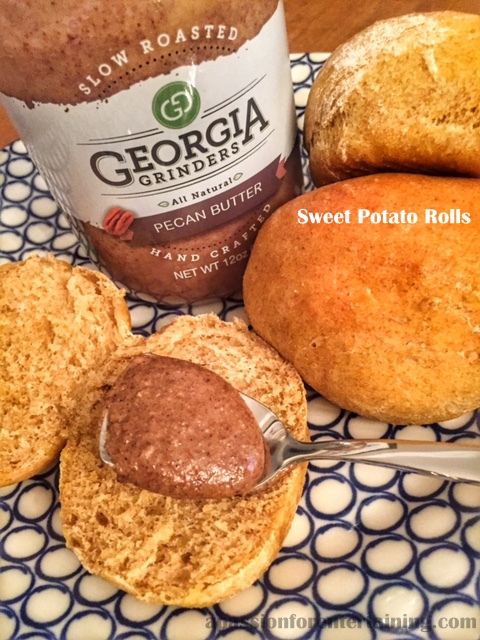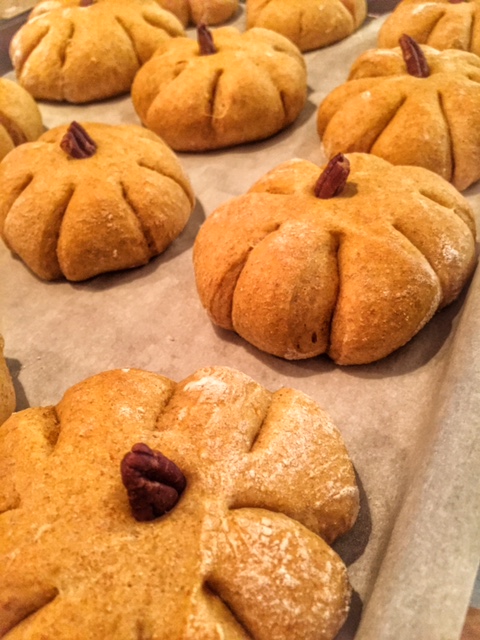 Sweet Potato Rolls
Ingredients
2

packages

active dry yeast

1 1/2

cups

warm water

3

cups

whole wheat flour

3 - 4

cups

white flour

1/3

cup

packed brown sugar

1 1/4

teaspoon

salt

1/4

cup

non-fat plain yogurt

4

tablespoons

softened butter

2

large

eggs, lightly beaten

1

large

sweet potato, cooked and pulp scooped out, approx. 1 cup
Instructions
To bake sweet potato, scrub and poke with a fork several times. Microwave on high for 6 minutes. Remove, slice in half to cool, scoop out pulp.

In a stand mixer with a dough hook : combine water, yeast and brown sugar, let stand for 5 minutes. Slowly add remaining ingredients (add 3 cups of white flour), once all combined, knead at medium speed for 4 minutes. (Dough will be sticky. If the dough does not pull away from the side of the bowl, add additional white flour 1/4 cup at a time.) Turn dough into a greased bowl, cover and let rise for 1 hour or until double. After 1 hour, punch dough down. Divide dough into 3 portions, one at a time put each portion of dough on a well floured board. Divide each third into 12 portions, shape into balls and place on parchment lined baking sheet. Cover with a clean towel and let rise for 30 minutes. Preheat oven to 350 degrees. Bake each tray of rolls for 15 - 17 minutes. Remove and cool on a wire rack.

To make pumpkin shaped rolls: After the rolls have risen for 20 minutes, gently pat down the roll, cut 8 slits around the edge of each roll. Insert the end of a wooden spoon in the center, place a pecan sliver in each. Let rest 15 minutes, bake as directed above.